The Fires of Heaven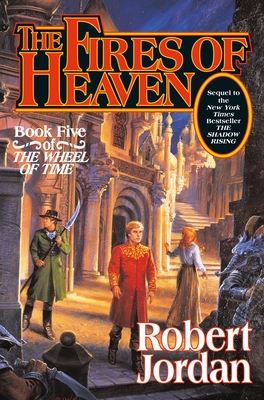 The Fires of Heaven
Tor Books, Hardcover, 9780312854270, 704pp.
Publication Date: October 15, 1993
* Individual store prices may vary.
Buy at Local Store
Enter your zip code below to purchase from an indie close to you.
or
Buy Here
Description
In this sequel to the phenomenal "New York Times" bestseller "The Shadow Rising, "Robert Jordan again plunges us into his extraordinarily rich, totally unforgettable world:
...Into the forbidden city of Rhuidean, where Rand al'Thor, now the Dragon Reborn, must conceal his present endeavor from all about him, even Egwene and Moiraine.
...Into the Amyrlin's study in the White Tower, where the Amyrlin, Elaida do Avriny a'Roihan, is weaving new plans.
...Into the luxurious hidden chamber where the Forsaken Rahvin is meeting with three of his fellows to ensure their ultimate victory over the Dragon.
...Into the Queen's court in Caemlyn, where Morgase is curiously in thrall to the handsome Lord Gaebril.
For once the dragon walks the land, the fires of heaven fall where they will, until all men's lives are ablaze.
And in Shayol Ghul, the Dark One stirs...
About the Author
Robert Jordan was born in 1948 in Charleston, South Carolina. He taught himself to read when he was four with the incidental aid of a twelve-years-older brother, and was tackling Mark Twain and Jules Verne by five. He is a graduate of The Citadel, the Military College of South Carolina, with a degree in physics. He served two tours in Vietnam with the U.S. Army; among his decorations are the Distinguished Flying Cross with bronze oak leaf cluster, the Bronze Star with "V" and bronze oak leaf cluster, and two Vietnamese Gallantry Crosses with palm. A history buff, he has also written dance and theater criticism and enjoyed the outdoor sports of hunting, fishing, and sailing, and the indoor sports of poker, chess, pool, and pipe collecting.Robert Jordan began writing in 1977 and went on to write The Wheel of Time(R), one of the most important and best selling series in the history of fantasy publishing with over 14 million copies sold in North America, and countless more sold abroad.Robert Jordan died on September 16, 2007, after a courageous battle with the rare blood disease amyloidosis.
Praise For The Fires of Heaven…
"The Wheel of Time [is] rapidly becoming the definitive American fantasy saga....A fantasy tale seldom equalled and still more seldom surpassed in English." --Chicago Sun-Times

"Jordan's multivolume epic continues to live up to its high ambitions. Complex plotting, an array of strong characters, lavish detail, and a panoramic scope make this series a feast for fantasy aficionados." --Library Journal