The Nanny Diaries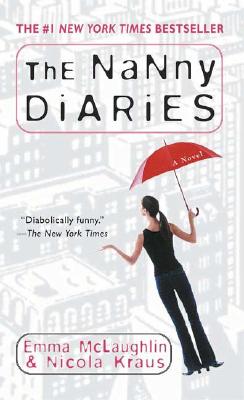 The Nanny Diaries
St. Martin's Paperbacks, Mass Market Paperback, 9780312983079, 384pp.
Publication Date: November 29, 2005
* Individual store prices may vary.
Buy at Local Store
Enter your zip code below to purchase from an indie close to you.
or
Not Currently Available for Direct Purchase
Description
"WANTED: "
"One young woman to take care of a four-year-old boy."
"Must be bordering on masochistic."
"Must relish sixteen-hour shifts with a nap-deprived pre-schooler."
"Must love getting thrown up on, literally and figuratively, by everyone in his family"
"Mostly, must love being treated like fungus found growing out of employers Hermes bag."
"Those who take it personally need not apply."
""
Who "wouldn't "want this job?
""
Nanny is a struggling grad student with no visible piercings. Mrs. X, of Park Avenue, doesn't work, clean, cook, or raise her own child. She makes appointments and lists. Nanny needs a job. Mrs. X needs someone accommodating. Nanny and Mrs. X need each other. In return, Nanny is subjected to erratic shifts, irregular paychecks, and the sullen moods of her four-year-old charge. Sentenced to every play date known to Central Park, and every gourmet-snack run she can handle, Nanny needs a diversion that an afternoon martini can't fulfill. Then she discovers a secret about Mr. X. Navigating a marriage on the rocks and the increasingly paranoid, impossibly demanding attitude of her employer, Nanny is redefining servitude. Because now, Nanny has something worth more than Mrs. X's ill-fitting Prada castoffs as a thankless bonus.
Nanny's acquiring the power of revenge

About the Author
NICOLA KRAUS and EMMA MCLAUGHLIN reside in New York City. They are no longer nannies.
Praise For The Nanny Diaries…
"Sorry, Madam, but your worst nightmare has arrived. It appears that the help has been taking notes, and good ones." -Janet Maslin, The New York Times

"A hilarious, scathing tale of upper-crust child-rearing practices that must have their former employers squirming." -People

"Mary Poppins channeling Dorothy Parker" -Time

"Reading [The Nanny Diaries] was an incredibly compelling voyeuristic thrill. Getting a glimpse behind the thick stone walls of those Park Avenue apartment buildings and into the excessively rich families who live in them (how much childcare help they have (a lot); how badly they treat their help (badly, very badly) how often these children see their actual parents (almost never) ) is fascinating and, at times, impossibly funny." -Laura Zigman, author of Dating Big Bird

"The Bonfire of the Vanities meets Mary Poppins in this hilarious look at life as a nanny to the rich and famous. The twenty-six-year-old authors have perfect pitch, and their every observation rings true. The Nany Diaries is social satire that's as moving as it is funny." -Jane Heller, author of Lucky Stars

"You don't have to be a Park Avenue nanny or Park Avenue mommy to savor this first novel by Emma McLaughlin and Nicola Kraus....The young authors have charted the twisting currents of love, snobbery, and inter-dependence with a sophistication and wit that anyone can enjoy....This upstairs/downstairs story set in New York, is a class act." -Laura Shaine Cunningham, author of The Midnight Diary of Zoya Blume