Cleopatra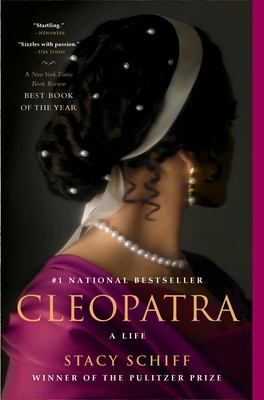 Cleopatra
A Life
Back Bay Books, Paperback, 9780316001946, 432pp.
Publication Date: September 6, 2011
* Individual store prices may vary.
Buy at Local Store
Enter your zip code below to purchase from an indie close to you.
or
Buy Here
Description
Her palace shimmered with onyx and gold but was richer still in political and sexual intrigue. Above all else, Cleopatra was a shrewd strategist and an ingenious negotiator. She was married twice, each time to a brother. She waged a brutal civil war against the first and poisoned the second; incest and assassination were family specialties. She had children by Julius Caesar and Mark Antony, two of the most prominent Romans of the day. With Antony she would attempt to forge a new empire, in an alliance that spelled both their ends. Famous long before she was notorious, Cleopatra has gone down in history for all the wrong reasons. Her supple personality and the drama of her circumstances have been lost. In a masterly return to the classical sources, Stacy Schiff boldly separates fact from fiction to rescue the magnetic queen whose death ushered in a new world order.
About the Author
Stacy Schiff is the author of V?ra (Mrs. Vladimir Nabokov), winner of the Pulitzer Prize; Saint-Exup?ry, a Pulitzer Prize finalist; and A Great Improvisation: Franklin, France, and the Birth of America, winner of the George Washington Book Prize and the Ambassador Book Award. Schiff has received fellowships from the Guggenheim Foundation, the National Endowment for the Humanities, and the Center for Scholars and Writers at the New York Public Library. The recipient of an Academy Award in Literature from the American Academy of Arts and Letters, she lives in New York City.
Praise For Cleopatra…
"Stacy Schiff has managed to create a masterpiece."
-Michael Korda, The Daily Beast

"[Schiff] writes against the fabulous grain...There are countless books about Cleopatra, but this one, I suspect, would have been one of her favorites."
-Laura Miller, Salon.com

"Captivating...Ms. Schiff strips away the accretions of myth that have built up around the Egyptian queen and plucks off the imaginative embroiderings of Shakespeare, Shaw and Elizabeth Taylor. In doing so, she gives us a cinematic portrait of a historical figure far more complex and compelling than any fictional creation, and a wide, panning, panoramic picture of her world."
-Michiko Kakutani, The New York Times

"A swift, sympathetic life of one of history's most maligned and legendary women."
-Kirkus

"[A] dazzling, meticulous biography."
-Caryn James, More

"Schiff excavates truth from myth with vivid eloquence, taking us back to a life in a time and place that was both 'an orgy of pillage and murder' and 'the Paris of the ancient world.'"
-Natasha Clark, Elle

"Hugely compelling...Schiff sifts through gauzy mythology to uncover a brilliant young woman."
-Vogue

"[An] excellent, myth-busting biography....No one will think of Cleopatra in quite the same way after reading this vivid, provocative book."
-Washington Examiner