The War Lovers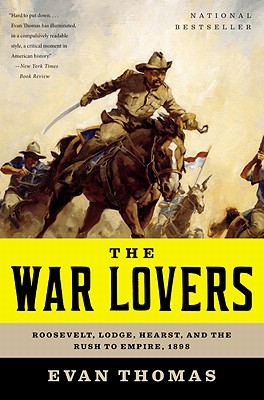 The War Lovers
Roosevelt, Lodge, Hearst, and the Rush to Empire, 1898
Back Bay Books, Paperback, 9780316004121, 470pp.
Publication Date: May 16, 2011
* Individual store prices may vary.
Buy at Local Store
Enter your zip code below to purchase from an indie close to you.
or
Buy Here
Description
On February 15, 1898, the USS "Maine" exploded in Havana Harbor. The sinking of the "Maine" was just the provocation Assistant Secretary of the Navy Theodore Roosevelt was looking for. Along with his friend Senator Henry Cabot Lodge and his rival, newspaper publisher William Randolph Hearst, Roosevelt began stirring the public's desire for war against Spain. Roosevelt was soon charging up San Juan Hill in Cuba with his Rough Riders in a tragi-comic campaign that marked America's emergence as an empire abroad. Through the perspective of five larger-than-life characters--war lovers Roosevelt, Lodge, Hearst, and two prominent doves, House Speaker Thomas Reed and philosopher William James--Evan Thomas portrays a pivotal chapter in American history.
An intriguing examination of the pull that war has on men, THE WAR LOVERS is moving saga of courage, ambition, and broken friendships with a provocative relevance to today.
About the Author
Evan Thomas is the author of The "Very Best Men: Four Who Dared: The Early Years of the C.I.A., " a book about the careers of Frank Wisner, Richard Bissell, Tracy Barnes and Desmond FitzGerald; "Robert Kennedy: His Life; The War Lovers: Roosevelt, Lodge, Hearst and the Rush to Empire, 1989; Sea of Thunder: The Last Great Naval Command, 1941-1945; "and "John Paul Jones. "He is at work on a book about President Dwight Eisenhower.
Praise For The War Lovers…
PRAISE FOR THE WAR LOVERS:

"In his absorbing narrative of men who found duty or fulfillment or personal meaning in a war for empire-and of other men, like William James, who feared that such a quest would rot the nation's soul-Thomas has illuminated, in a compulsively readable style, a critical moment in American history. This is a book that, with its style and panache, is hard to forget and hard to put down."
-New York Times Book Review

"Thomas has delivered an innovative, frequently entertaining and valuable retelling of an episode that set the pattern for more than a century of foreign military adventurism. This timely book is a cautionary tale about how the psyche of powerful and ambitious leaders may matter more than fact-or even truth-when the question of war arises."
-The Washington Post

"Thomas takes some risks in his biography of Theodore Roosevelt and his cohorts, trying to get not just inside their actions, but inside their heads. The result is an intriguing examination of the pull that war has on men."
-Minneapolis Star Tribune

"No biographer at work today has a surer feel for the human dimension of history than Evan Thomas...The War Lovers is as good as popular history gets."
-author of American Lion: Andrew Jackson in the White House