The Sugar Frosted Nutsack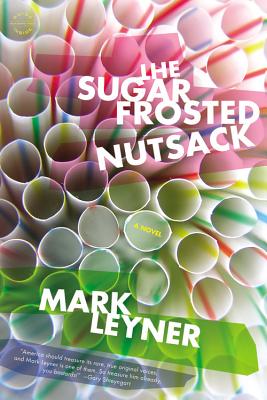 The Sugar Frosted Nutsack
Back Bay Books, Paperback, 9780316018975, 14pp.
Publication Date: March 12, 2013
* Individual store prices may vary.
Buy at Local Store
Enter your zip code below to purchase from an indie close to you.
or
Buy Here
Description
High above the bustling streets of Dubai, in the world's tallest and most luxurious skyscraper, reside the gods and goddesses of the modern world. Since they emerged 14 billion years ago from a bus blaring a tune remarkably similar to the Mister Softee jingle, they've wreaked mischief and havoc on mankind. Unable to control their jealousies, the gods have splintered into several factions, led by the immortal enemies XOXO, Shanice, La Felina, Fast-Cooking Ali, and Mogul Magoo. Ike Karton, an unemployed butcher from New Jersey, is their current obsession.
Ritualistically recited by a cast of drug-addled bards, THE SUGAR FROSTED NUTSACK is Ike's epic story. A raucous tale of gods and men confronting lust, " "ambition, death, and the eternal verities, it is a wildly fun, wickedly fast gambol through the unmapped corridors of the imagination.
About the Author
Mark Leyner is the author of the novels "My Cousin, My Gastroenterologist," Et Tu, Babe and The Tetherballs of Bougainville. His nonfiction includes the #1 "New York Times" bestseller, Why Do Men Have Nipples? He cowrote the movie War, Inc. and lives in Hoboken, New Jersey.
Praise For The Sugar Frosted Nutsack…
"The great Mark Leyner has returned. He's brought with him a visionary comedy, a nearly epic exegesis of a wonderfully ludicrous (and somehow completely believable) epic, and, most important, a pantheistic belief system we can all finally get behind. Big ass brilliance on every sun-kissed page."
-Sam Lipsyte, author of Home Land and The Ask

"This book did all kinds of things to my brain: squeezed it, shocked it, scrambled it and, finally, improved it. There is no one like Mark Leyner in fiction today, and with The Sugar Frosted Nutsack, he has found--or invented--a language with which to render the insanity and self-referentiality of our contemporary culture. A chaotic and vibrant novel whose form is perfect for a chaotic and vibrant universe."
-Charles Yu, author of How to Live Safely in a Science Fictional Universe

"The Sugar Frosted Nutsack is dizzyingly brilliant. Mark Leyner is a hyperkinetic shaman, who flies the banner of rum and candy and writes like a one-eyed feral bandit. His new book is supremely original, delirious and synapse-shattering."
-John Cusack

"America should treasure its rare, true original voices and Mark Leyner is one of them. So treasure him already, you bastards!"
-Gary Shteyngart, author of Super Sad True Love Story

"A total delight. Like tweaking out on a super trippy crystal meth high, but without the crash of annihilating depression that normally follows. Not that I really know this for sure since I've never actually been high."
-Todd Solondz, director of Welcome to the Dollhouse, Happiness, Storytelling, and Palindromes

"The Sugar Frosted Nutsack proves once again that Mark Leyner is a mad genius, one of the smartest and funniest humans since Aristophanes. The gods must be crazy for allowing him to write their collective biography. I want scrips for whatever drugs he's taking."
-Jay McInerney, author of Bright Lights, Big City and How It Ended