The Devil's Right Hand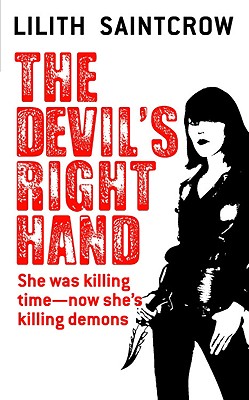 The Devil's Right Hand
Orbit, Mass Market Paperbound, 9780316021425, 391pp.
Publication Date: September 1, 2007
* Individual store prices may vary.
Buy at Local Store
Enter your zip code below to purchase from an indie close to you.
or
Not Currently Available for Direct Purchase
Description
Dante Valentine, Necromancer and bounty hunter, just wants to be left alone. But the Devil has other ideas.
The Prince wants Dante. And he wants her now. And Dante and her lover, Japhrimel, have no choice but to answer the Prince's summons. And to fulfill a seemingly simple task: become the Devil's Right Hand, hunt down four demons that have escaped from Hell, and earn His gratitude.
It's a shame that nothing is ever easy when it comes to the Devil. Because of course, he doesn't tell Dante the whole truth: there is a rebellion brewing in Hell. And there is a good chance that Lucifer is about to be pushed off the throne.
But Dante is getting really tired of being pushed around. And this time, she might be angry enough to take on the Devil himself...

Dante Valentine Novels
"Working for the Devil"
"Dead Man Rising"
"Devil's Right Hand"
"Saint City Sinners"
"To Hell and Back"
"Dante Valentine "(omnibus)
For more from Lilith Saintcrow, check out:
Gallow and Ragged
"Trailer Park Fae"
Bannon and Clare
"The Iron Wyrm Affair"
"The Red Plague Affair"
"The Ripper Affair"
"The Damnation Affair "(e-only)
Jill Kismet Novels
"Night Shift"
"Hunter's Prayer"
"Redemption Alley"
"Flesh Circus"
"Heaven's Spite"
"Angel Town"
"Jill Kismet "(omnibus)
A Romance of Arquitaine Novels
"The Hedgewitch Queen"
"The Bandit King""
""Blood Call "(coming August 2015)
About the Author
Lilith Saintcrow lives in Vancouver, Washington, with her husband, two children, three cats, and assorted other strays. To learn more about Lili, please visit www.lilithsaintcrow.com.