Brothers (and Me)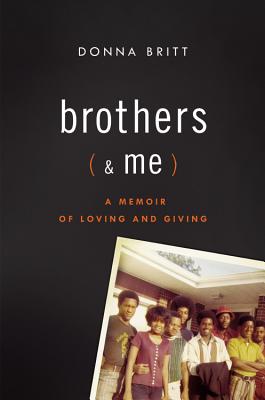 Brothers (and Me)
A Memoir of Loving and Giving
Little Brown and Company, Hardcover, 9780316021845, 320pp.
Publication Date: December 8, 2011
* Individual store prices may vary.
Buy Now
or
Shop Local
Enter your zip code below to purchase from an indie close to you.
Description
. Donna Britt has always been surrounded by men-her father, three brothers, two husbands, three sons, countless friends. She learned to give to them at an early age. But after her beloved brother Darrell's senseless killing by police 30 years ago, she began giving more, unconsciously seeking to help other men the way she couldn't help Darrell. BROTHERS (AND ME) navigates Britt's life through her relationships with men-resulting in a tender, funny and heartbreaking exploration of universal issues of gender and race. It asks: Why, for so long, did Britt-like millions of seemingly self-aware women-rarely put herself first? With attuned storytelling and hard-wrought introspection, Britt finds that even the sharpest woman may need reminding that giving to others requires giving to oneself.
Praise For Brothers (and Me)…
"Donna Britt is a born giver and along life's bumpy roads she found her share of takers. Combining her incredible talents of giving and writing, in this tender but gritty well-crafted memoir she dropped her fig leaf bearing her soul, faced her demons, and arose the victor. Never again will I read a newspaper headline without imagining the other brothers of the world behind it."
-Ron Hall, coauthor of Same Kind of Different as Me

"In this gutsy memoir, journalist Britt write engagingly about the men in her life, and how caring for them often robbed her of a sense of self-mission....Britt writes eloquently of a woman's sense of anguish and ambiguity in giving herself so completely."
-Publishers Weekly



"In her debut memoir, former Washington Post columnist Britt offers an introspective account of growing up in Gary, Indiana...A probing psychological exploration that delves to rarely tapped depths."
-Kirkus

"Moving."
-AARP The Magazine

"Achingly honest. An alternately raw and elegant memoir...A wrenching, introspective examination of a life through the prism of racism, sexism, and unconditional devotion. Donna Britt's insights into her roles as mother, wife, and sister to black men explores the gray and fuzzy complexity of human emotion when, for better or worse, imperfect people love other imperfect people."
-Boston Globe

"Few black women have written about black men more frankly with heartfelt eloquence than former Washington Post columnist Donna Britt."
-Louisville Courier-Journal