Confetti Girl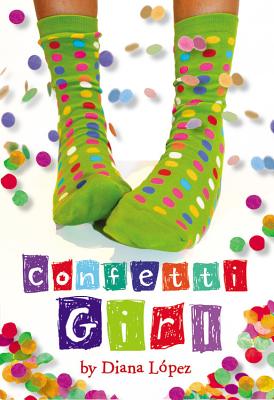 Confetti Girl
Little, Brown Young Readers, Hardcover, 9780316029551, 198pp.
Publication Date: June 2009
* Individual store prices may vary.
Shop Local
Enter your zip code below to find indies closest to you.
Description
Apolonia "Lina" Flores is a sock enthusiast, a volleyball player, a science lover, and a girl who's just looking for answers. Even though her house is crammed full of books (her dad's a bibliophile), she's having trouble figuring out some very big questions, like why her dad seems to care about books more than her, why her best friend's divorced mom is obsessed with making "cascarones" (hollowed eggshells filled with colorful confetti), and, most of all, why her mom died last year. Like colors in "cascarones," Lina's life is a rainbow of people, interests, and unexpected changes.
In her first novel for young readers, Diana Lopez creates a clever and honest story about a young Latina girl navigating growing pains in her South Texan city.
About the Author
Lopez is a graduate of the creative writing program at Southwest Texas State University, San Marcos. She is currently a medical lab techician, and an eight-grade English teacher.
Praise For Confetti Girl…
"Employing lovely metaphors and realistic dialogue, adult author López (Sofia's Saints) delicately displays the power of optimism and innovation during difficult times."
-Publishers Weekly

"An appealing coming-of-age novel...Local idioms of Spanish proverbs -- dichos -- used as chapter headings enlighten both characters and readers."
-Kirkus Reviews

"López effectively portrays the Texas setting and the characters' Latino heritage....This debut novel puts at its center a likable girl facing realistic problems on her own terms."
-Booklist

"Like the colorful cascarones López writes about, Confetti Girl is bursting with heartwarming cheer."
-Grace Lin, author of The Year of the Dog

"A great set of characters and a fantastic story: the dichos, sayings or adages meant to shed some light on a situation, to teach a lesson, to encourage wisdom. If that's the case, then here's mine for this wonderful novel: Un libro sin abrir es una vida sin sabor (A book unread is a life unlived). So, live this book. Live its humor, its sadness, and ultimately its great joy."
-René Saldaña, Jr., author of The Whole Sky Full of Stars, Finding Our Way, and The Jumping Tree

"Although Confetti Girl takes on a serious subject matter, it's also about fun, a whole semester's worth, which includes confrontations with the school's most popular boy, a school festival, volleyball, friendship, boy craziness, a quinceañera and trips to the beach - and the counselor's office."
-San Antonio Express-News

"López weaves Lina's bilingual and bicultural upbringing into the narrative seamlessly, giving young Latina readers an added element to connect with."
-El Paso Times

"Like a cascaron, Lina's life is full of colorful people and events, and you will want to read about every single one of them in this witty, honest novel."
-TIME for Kids , "Summer Splash" 2009