Rock Bottom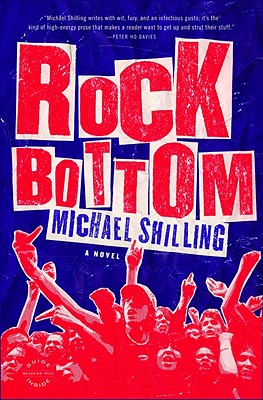 Rock Bottom
Back Bay Books, Paperback, 9780316031929, 373pp.
Publication Date: January 9, 2009
* Individual store prices may vary.
Not Currently Available for Direct Purchase
or
Shop Local
Enter your zip code below to purchase from an indie close to you.
Description
Once, the Blood Orphans had it all: a million-dollar recording contract from Warner Brothers, killer hooks, and cheekbones that could cut glass. Four pretty boys from Los Angeles, they were supposed to be the next big thing, future kings of rock and roll.
But something happened on the way to glory, and now, two years later, along with their coke-fueled, mohawked female manager, they have washed up in Amsterdam for the final show of their doomed and dismal European tour. The singer has become a born-again Buddhist who preaches from the stage, the bass player's raging eczema has turned his hands into a pulpy mess, the drummer is a sex-fiend tormented by the misdeeds of his porn-king father, and the guitar player--the only talented one--is thoroughly cowed by the constant abuse of his bandmates.
As they stumble through their final day together, the Blood Orphans find themselves on a comic tour of frustration, danger, excitement, and just possibly, redemption.
About the Author
Michael Shilling is a Lecturer at the University of Michigan, where he received his MFA in Creative Writing. He graduated from NYU, worked as a copywriter in Seattle and played the drums in numerous bands, including The Long Winters. He is currently working on a novel that takes place in Victorian England.
Praise For Rock Bottom…
"ROCK BOTTOM is a raunchy, knowing, brilliant novel - a diamond-sharp, lightning-witted, sex-packed, hilarious account of the last days of a fallen-from-grace hard rock band, marooned in Amsterdam under the crashing ruins of a lost greatness. Shilling, himself a former musician, is our insider guide to the ravages and seductions of the rock-and-roll world, and he describes the sights with a tender, pitch-perfect savagery. But more than this, the novel is a remarkably accomplished piece of art - a complicated survivor's tale, full of hilarious sadness, virtuous cruelty, beautiful destruction, the sort of book you pick up with high expectations and that, to your surprise and delight, surpasses them all, a book funnier, smarter, sadder, and more inventively composed that you could possibly have hoped. It's a hit, I mean - I was laughing all the way through, and singing along."

"A rock and roll novel at once rocking and rollicking. ROCK BOTTOM knowingly skewers the pretensions of the music business, while never taking them seroiusly, and the result is a simultaneously scabrous yet affectionate portrait of a band and its entourage in the final throes of a tour de farce. Michael Shilling writes with wit, fury and an infectious gusto; it's the kind of high-energy prose that makes a reader want to get up and strut their stuff."

"Michael Shilling's debut is everything one wants in a novel: tragic and thrilling, farcical and realistic. The prose is exuberant in its range and wildness, but also in its little treasures, its unfoldings and depths. Here is a writer who brings characters to life, circumstances to light, and imbues them with resonance, traveling the whole map of human obsession and longing with breathless energy. This is a sexy, funny novel, but with the kind of profundity we need from our best novelists at this time. Michael Shilling is an important new writer, and this is novel you won't forget having read."

"Finally, at last, an ass-kicking, authentic rock & roll novel, one that peels back the veneer and gloss and--with an insider's eye--exposes the lovely, wondrous dirt."

"[Rock Bottom is] enlivened by characterizations as deep as would seem allowable for such a narcissistic gang and industry, brisk observations about the pitfalls of fame, and often funny banter among the dueling inhabitants of a sinking musical ship."
-Publishers Weekly

"Simultaneously bleak and archly funny... With rich characterizations and surprisingly complex back stories, the author gets under the skin of his ragtag brotherhood... A thoughtful snapshot of a crumbling rock 'n' roll fantasy."
-Kirkus Reviews