Georgia Bottoms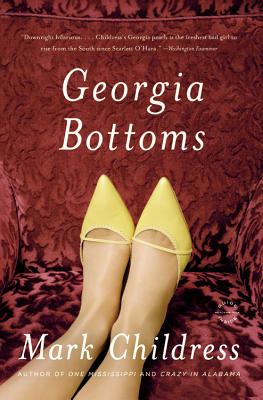 Georgia Bottoms
Back Bay Books, Paperback, 9780316033039, 278pp.
Publication Date: February 8, 2012
* Individual store prices may vary.
Buy Now
or
Shop Local
Enter your zip code below to purchase from an indie close to you.
Description
Georgia Bottoms may be Six Points, Alabama's finest feature - beautiful, worldly, a splendid cook and faithful churchgoer who cares for her aged mother and sells handmade quilts to her grateful neighbors.

Georgia also has a discreet side business, "entertaining" six local gentlemen at night. Judge Barnett on Sunday, Sheriff Allred on Friday, the doctor on Wednesday (Monday's are Georgia's own). Each gentleman gets a night tailored to his particular tastes, each has been trained to leave a "gift" to help Georgia get by, and each one thinks he is Georgia's only secret lover.

When Preacher Eugene Hendrix (Saturdays) decides he must confess their affair in front of his wife and the entire congregation, Georgia may be able to stop him in time. But one pin pulled out of her elaborately protected life may be all it takes to send the whole structure to hell in a hurry. Chin high, posture perfect, her Chanel handbag tucked firmly under her arm, Georgia sets out to save herself, her mama, and her particular notion of virtue from total ruin. Nothing in Six Points will ever be the same.

Written with hilarity, insight, and affection for the many failings of man-and womankind, Georgia Bottoms plumbs the irrepressible workings of the rebellious human heart.
About the Author
Mark Childress is the author of seven novels: GEORGIA BOTTOMS, ONE MISSISSIPPI, GONE FOR GOOD, CRAZY IN ALABAMA, TENDER, V FOR VICTOR, and A WORLD MADE OF FIRE. Born in Monroeville, Alabama - the same town Harper Lee wrote about in TO KILL A MOCKINGBIRD - Childress is one of three sons of Roy and Mary Helen Childress. Roy was a salesman for Ralston Purina, so the family moved a lot growing up: Ohio, Indiana, Mississippi, and Louisiana were some of the stops along the way. Childress attended Clinton (Miss.) High School and the University of Alabama, where he studied fiction writing under Barry Hannah and Kitty Johnson. He worked as a staff writer for the Birmingham (Ala.) News, and was Features Editor of Southern Living magazine and National Editor of The Atlanta Journal and Constitution before becoming a full-time novelist. His articles and reviews have appeared in The New York Times, Los Angeles Times, The Times of London, San Francisco Chronicle, Saturday Review, Chicago Tribune, Philadelphia Inquirer, Travel and Leisure, and other national and international publications. "Tender," a Literary Guild and Doubleday Book Club selection, was named to several Ten Best of 1990 lists, and appeared on many national bestseller lists. "Crazy in Alabama," a featured selection of the Literary Guild, has been published in eleven languages and appeared on many bestseller lists and Ten Best of 1993 lists. "Crazy" was named The (London) Spectator's "Book of the Year" for 1993 and a New York Times "Notable Book of the Year," and was on the Spiegel bestseller list in Germany for 10 months. "One Mississippi" was a BookSense Notable Book of the Year, nominated for SIBA Book of the Year, and appeared on the "hot summer book" lists of Good Morning America, People, Entertainment Weekly, the Los Angeles Times, Wall Street Journal, O: the Oprah Magazine, and the New York Public Library. The paperback edition is now in its seventh printing. "Georgia Bottoms" was a New York Times bestseller and appeared on a variety of "hot" lists. He wrote the screenplay of the Columbia Pictures film "Crazy in Alabama," directed by Antonio Banderas, and starring Melanie Griffith, an official selection of the Venice and San Sebastian film festivals in 1999. Childress is now working on his eighth novel and a film project. He lives in Key West, Florida.
Praise For Georgia Bottoms…
"Move over, Flannery O'Connor . . . Mark Childress has written another laugh-out-loud Southern classic!"
-Fannie Flagg, author of I Still Dream About You

"The simple act of reading Georgia Bottoms releases tension; buttons are undone, shoes kicked off-man is it hot. Georgia is not perfect, but she's fun to be with."
-Los Angeles Times

"One of the most irresistible liars ever to whip up a batch of pimento cheese sandwiches, the irreverent Georgia Bottoms allows Childress to poke fun at a number of sacred cows."
-Atlanta Journal-Constitution

"Hilarious...Riffs on small-town hypocrisy and racial tensions enliven the plot, but it's the unsinkable Georgia who makes the book delicious."
-People

"Downright hilarious....Childress's Georgia peach is the freshest bad girl to rise from the South since Scarlett O'Hara."
-Washington Examiner

"Skillfully crafted, memorable, and amusing....Georgia, good-looking and devious, is a compelling character who keeps the narrative alive with her survival skills."
-Associated Press

"Georgia Bottoms is a lovingly drawn woman, charming, hilarious, heartbreaking, warm and tough, rich in charm and denial and insight. She's an inspired creation in a story filled with serious challenges and fabulous people, good and bad, rich and poor, stunning and appalling, sometimes all at once. They all ring true, and I will never forget them."
-Anne Lamott, author of Imperfect Birds