Life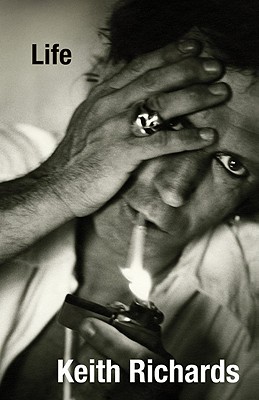 Life
Little Brown and Company, Hardcover, 9780316034388, 564pp.
Publication Date: October 26, 2010
* Individual store prices may vary.
Buy at Local Store
Enter your zip code below to purchase from an indie close to you.
or
Buy Here
Description
The long-awaited autobiography of the guitarist, songwriter, singer, and founding member of the Rolling Stones. Ladies and gentlemen: Keith Richards.

With The Rolling Stones, Keith Richards created the songs that roused the world, and he lived the original rock and roll life.

Now, at last, the man himself tells his story of life in the crossfire hurricane. Listening obsessively to Chuck Berry and Muddy Waters records, learning guitar and forming a band with Mick Jagger and Brian Jones. The Rolling Stones's first fame and the notorious drug busts that led to his enduring image as an outlaw folk hero. Creating immortal riffs like the ones in "Jumping Jack Flash" and "Honky Tonk Women." His relationship with Anita Pallenberg and the death of Brian Jones. Tax exile in France, wildfire tours of the U.S., isolation and addiction. Falling in love with Patti Hansen. Estrangement from Jagger and subsequent reconciliation. Marriage, family, solo albums and Xpensive Winos, and the road that goes on forever.

With his trademark disarming honesty, Keith Richard brings us the story of a life we have all longed to know more of, unfettered, fearless, and true.
About the Author
Keith Richards is a founding member of The Rolling Stones.

James Fox was born in Washington, D.C., in 1945. He worked as a journalist in Africa, and later at the "Sunday Times" in London. He is the author of the bestselling "White Mischief."
Praise For Life…
"By turns earnest and wicked, sweet and sarcastic and unsparing, Mr. Richards, now 66, writes with uncommon candor and immediacy....He gives us an indelible, time-capsule feel for the madness that was life on the road with the Stones in the years before and after Altamont; harrowing accounts of his many close shaves and narrow escapes (from the police, prison time, drug hell); and a heap of sharp-edged snapshots of friends and colleagues...But Life...is way more than a revealing showbiz memoir. It is also a high-def, high-velocity portrait of the era when rock 'n' roll came of age, a raw report from deep inside the counterculture maelstrom of how that music swept like a tsunami over Britain and the United States. It's an eye-opening all-nighter in the studio with a master craftsman disclosing the alchemical secrets of his art. And it's the intimate and moving story of one man's long strange trip over the decades, told in dead-on, visceral prose without any of the pretense, caution or self-consciousness that usually attend great artists sitting for their self-portraits....Mr. Richards has found a way to channel to the reader his own avidity, his own deep soul hunger for music and to make us feel the connections that bind one generation of musicians to another. Along the way he even manages to communicate something of that magic, electromagnetic experience of playing on stage with his mates, be it in a little club or a huge stadium."
-Michiko Kakutani, The New York Times

"One of the greatest rock memoirs ever....The title of Richards' book is a simple, accurate description on the contents: the 66-year-old guitarist's highs, lows and death-defying excesses, from birth to now, vividly related in his natural pirate-hipster cadence and syntax."
-David Fricke, Rolling Stone

"[Keith Richards has] been through quite a lot of phases. And they're all on the page in Life....All of this is recounted with straight-up candor... But is there anything new that can be said about the Stones anyway? As Life emphatically demonstrates, the answer is yes."
-Janet Maslin, The New York Times

"You can't imagine that this book could be any better than it is...Keith holds nothing back. It's funny, gossipy, profane and moving and by the time you finish it you feel like you're friends with Keith Richards."
-Will Dana, Rolling Stone

"Entertaining...a slurry romp through the life of a man who knew every pleasure, denied himself nothing, and never paid the price."
-David Remnick, The New Yorker

"Why does Keith want to undercut his legend? Because he has much better stories to tell. And in Life, the 547-page memoir he wrote with James Fox, he serves them up like his guitar riffs--in your face, nasty, confrontational, rich, smart, and, in the end, unforgettable....His story slows as it approaches the present, and you start to wonder if this Peter Pan life can get to its end without real pain....But mostly, you wish you could go back to the beginning of Life and start again."
-Jesse Kornbluth, The Huffington Post

"What kind of celebrity autobiography is his Life? A remarkable one. One that reveals Mr. Richards in far greater depth and detail than any fan of the Rolling Stones or rock music could have hoped for...Mr. Richards writes with disarming introspection about his childhood, family and fame. And it's quite likely that no rock musician has ever written so keenly about the joys of making music. With a warm sense of humor and willingness to share his grief, Mr. Richards in Life defies almost every public perception about him."
-Jim Fusilli, The Wall Street Journal

"Life, a firsthand journey from wartime London through the wilder parts of the 1960s and 1970s and beyond, could as easily be filed among the works of Richards' friend William Burroughs as alongside the memoirs of Bob Dylan or Eric Clapton.... It's the rare rock memoir with recipes (for bangers, English sausages), guidelines on street brawling (flash the knife as a decoy, then kick your enemy where it hurts) and staying awake for days.... Life is like the ultimate Keith Richards album."
-Hillel Italie, Associated Press

"A vivid self-portrait and, of the Stones and their musical era, a grand group portrait. Surely thanks in part to his co-writer James Fox, Richards shows a strong, sure authorial voice, acute in detail, passionate about his achievements in music and nearly always amused by his excesses, not least in having survived them....spellbinding storytelling."
-Richard Corliss, TIME Magazine

"The twinkle from Keith Richards's eye throughout his autobiography Life is as distinctive as his famous guitar riffs in 'Jumpin' Jack Flash.'"
-David Hinckley, New York Daily News

"Rollicking and raw."
-Andrew Abrahams, People

"Richards' authorial voice is evident on almost every page and, like his singing one, it is both an entertaining and an ever-wandering instrument....he not only has the best tunes, he also knows how to tell the best tales."
-Clark Collis, Entertainment Weekly

"[Keith Richards has] created an insightful narrative--a story of fame, struggling with demons, and rock and roll....an opus on a lifetime of brutal honesty, an all-encompassing account of what it's been like to be one of the coolest rock stars in the world."
-Kevin Fallon, The Atlantic

"The most scabrously honest and essential rock memoir in a long time....the voice that emerges is unmistakably the dark lord's: growly and profane and black with comedy."
-Lou Bayard, The Washington Post

"[A] fast-paced, pull-no-punches autobiography... Richards is at his best when digging into the reasons he plays music, and how he creates it."
-The Chicago Tribune



"Life covers all the bases: sex, drugs, guitar riffs... the book, which already seems to have earned a place in the admittedly small canon of genuinely great rock lit, is dishy but not lurid, technical but not wonky. Richards' voice, filtered through Fox's brain, is so relentlessly endearing, no less a critic than Maureen Dowd has declared the prince of darkness a 'consummate gentleman.'"
-Rebecca Dana, The Daily Beast

"Compelling, endearing, insightful, action-packed, graceful, generous-spirited, unflinching, and funny... Life distinguishes itself as a singularly entertaining and intelligent kind of music book. With the help, undoubtedly, of Fox in unearthing decades-old memory-jarring diaries and letters, it works as a lively you-are-there account of one man living through a socially and culturally transformative time....I could go on and on with the anecdotes and incidents from Life, but space doesn't allow. Suffice it to say that if you're reading it in a room with somebody else who cares about rock-and-roll, you'll want to read something out loud every page and a half or so. I can't remember ever enjoying a music memoir as much."
-Dan DeLuca, The Philadelphia Inquirer

"[Richards] is funny, sharp, and insightful....the book is an important addition to the canon of rock lit, chronicling not just the life of an iconic musician and a seminal band but a significant slice of the golden age of rock."
-Carlo Wolf, Boston Globe

"As the legendary guitarist for the Rolling Stones, Keith Richards has done more, been more and seen more than you or I will ever dream of, and reading his autobiography, Life, should awaken (if you have a pulse and an I.Q. north of 100) a little bit of the rock star in you.... Music is at the core of Life, as it is at the core of Keith.... Believe me, you won't want to miss a thing. The most impressive part of Life is the wealth of knowledge Keith shares, whether he's telling you how to layer an acoustic guitar until it sounds electric, as he did on the classic Stones track "Street Fighting Man," or how to win a knife fight. He delivers recipe after recipe for everything rock 'n' roll, and let me say it's quite an education....Reading Life is like getting to corner Keith Richards in a room and ask him every­thing you ever wanted to know about the Rolling Stones, and have him be completely honest with you."
-Liz Phair, The New York Times Book Review

"Fiercely entertaining and candid."
-San Francisco Chronicle
Monday, Oct 25, 2010
The guitarist opens up about his music, his legendary journeys on the road with The Rolling Stones and his occasionally contentious relationship with lead singer Mick Jagger in a new memoir called Life. More at NPR.org