The Turnaround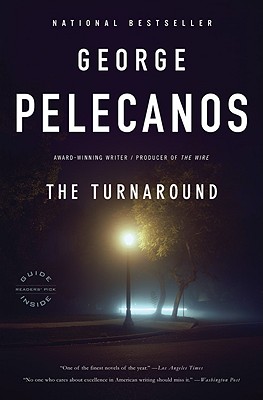 The Turnaround
Back Bay Books, Paperback, 9780316040921, 294pp.
Publication Date: April 1, 2009
* Individual store prices may vary.
Buy Now
or
Shop Local
Enter your zip code below to purchase from an indie close to you.
Description
On a hot summer afternoon in 1972, three teenagers drove into an unfamiliar neighborhood and six lives were altered forever.
Thirty five years later, one survivor of that day reaches out to another, opening a door that could lead to salvation. But another survivor is now out of prison, looking for reparation in any form he can find it.
THE TURNAROUND takes us on a journey from the rock-and-soul streets of the '70s to the changing neighborhoods of D.C. today, from the diners and auto garages of the city to the inside of Walter Reed Army Medical Hospital, where wounded men and women have returned to the world in a time of war. A novel of fathers and sons, wives and husbands, loss, victory and violent redemption, THE TURNAROUND is another compelling, highly charged novel from George Pelecanos, "the best crime novelist in America." -"Oregonian.
About the Author
George P. Pelecanos is the author of nine richly praised crime novels set in and around Washington D.C., including Hell to Pay, Right as Rain, The Sweet Forever, Shame the Devil, King Suckerman, and The Big Blowdown.
Praise For The Turnaround…
PRAISE FOR THE TURNAROUND:


"Yet another gem of urban noir....A beautifully written and thought-provoking novel of crime, friendship, aging and redemption."
-Publishers Weekly (starred review)

"[Pelecanos] tells a tight, suspenseful story. And he packs enough of a wallop to put THE TURNAROUND on an express bus of its own."
-New York Times

"Pelecanos does what few, if any, American writers do: He tells the truth. Twain told the truth; Faulkner toyed with the truth; Hemingway told his version of the truth, and Chandler certainly told a cold, cynical truth. Pelecanos's truth is from deep in the heart, from places where red blood cells know more than all the sweet, heady words truth usually hides behind."
-Chicago Sun-Times

"George Pelecanos is one of the most literary of America's crime writers, and like most of his books, THE TURNAROUND is more than mere entertainment. This beautifully written novel, rich with carefully wrought characters, is both a fine crime story and a thoughtful exploration of race relations in the lives of ordinary Americans."
-Associated Press