So Cold the River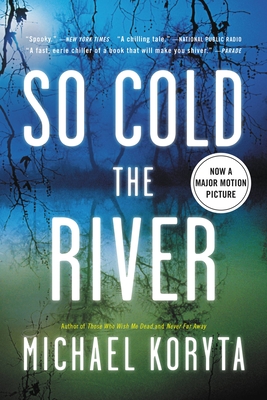 So Cold the River
Back Bay Books, Paperback, 9780316053648, 508pp.
Publication Date: January 2011
* Individual store prices may vary.
Buy Now
or
Shop Local
Enter your zip code below to purchase from an indie close to you.
Description
It started with a beautiful woman and a challenge. As a gift for her husband, Alyssa Bradford approaches Eric Shaw to make a documentary about her father-in-law, Campbell Bradford, a 95-year-old billionaire whose past is wrapped in mystery. Eric grabs the job even though there are few clues to the man's past--just the name of his hometown and an antique water bottle he's kept his entire life.

In Bradford's hometown, Eric discovers an extraordinary history--a glorious domed hotel where movie stars, presidents, athletes, and mobsters once mingled, and hot springs whose miraculous mineral water cured everything from insomnia to malaria. Neglected for years, the resort has been restored to its former grandeur just in time for Eric's stay.

Just hours after his arrival, Eric experiences a frighteningly vivid vision. As the days pass, the frequency and intensity of his hallucinations increase and draw Eric deeper into the town's dark history. He discovers that something besides the hotel has been restored--a long-forgotten evil that will stop at nothing to regain its lost glory. Brilliantly imagined and terrifyingly real, So Cold the River is a tale of irresistible suspense with a racing, unstoppable current.
About the Author
MICHAEL KORYTA's first novel, "Tonight I Said Goodbye", was published when he was just twenty-one. He lives in Bloomington, Indiana, where he began working as a newspaper reporter and for a private investigator while still in high school. "Tonight I Said Goodbye "won the St. Martin's Press/Private Eye Writers of America Contest for first novel and the Great Lakes Book Award for best mystery, and was a finalist for the Edgar Award for best first novel. His other novels include "Envy the Night" (winner of the 2008 mystery/thriller Los Angeles Times Book Prize), "The Silent Hour", and "Those Who Wish Me Dead".
Praise For So Cold the River…
"So Cold the River is a great story, but what held me was the lean, clean prose and the sharp presentation of scenes and dialogue. Michael Koryta is a good story teller and a wonderful stylist."

"Kortya's SO COLD THE RIVER is an example of the good-writing equals good-reading equation that makes fright-inducing fiction worthy of our time, attention, and real enjoyment."
-author of The Terror and Drood

"This book builds like a summer storm. Beautiful to watch until it shakes the house and knocks out the lights, leaving you alone in the dark. Another masterful work from Michael Koryta, SO COLD THE RIVER is guaranteed to put the cold finger down your spine."

"An icy, terrifying winner. So Cold the River puts an October chill in your blood by the end of the first chapter. It's not much longer before you've turned on all the lights and rechecked all the window locks. Few novelists warrant mention alongside Stephen King or Peter Straub. Michael Koryta, however, earns comparison to both."

"Michael Koryta is a gifted storyteller. His writing reminded me of the great Ruth Rendell--eerie, suspenseful, and pleasantly wicked. If you're looking for a dose of Midwestern Gothic at its best, SO COLD THE RIVER will be just the thing for you."
-author of A Simple Plan and The Ruins

ACCLAIM FOR ENVY THE NIGHT (2008):
"One of the best of the best, plain and simple."

"Superb writing and storytelling from Michael Koryta...Envy the Night represents his best work to date."

"This diabolical novel, laid out in simple but eloquent prose and pitch-perfect dialogue, heralds a changing of the guard. I have seen the future of 'The Best Mystery Writer in America' and its name is Michael Koryta."

"With Envy the Night, Koryta earns a seat at the high table of neo-noir crime writers."
-New York Times

"Gangsters, a silent but heroic drifter with second sight, and a whopper of a Florida hurricane. How can you go wrong?"
-Stephen King, Entertainment Weekly (on The Cypress House)