The Mostly True Story of Jack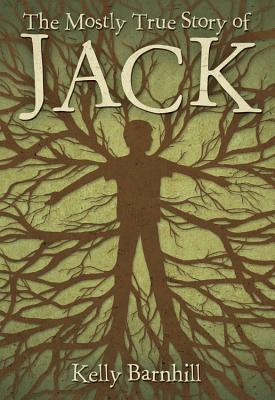 The Mostly True Story of Jack
Little, Brown Books for Young Readers, Hardcover, 9780316056700, 323pp.
Publication Date: August 2, 2011
* Individual store prices may vary.
Buy at Local Store
Enter your zip code below to purchase from an indie close to you.
or
Not Currently Available for Direct Purchase
Description
Enter a world where magic bubbles just below the surface. . . .

When Jack is sent to Hazelwood, Iowa, to live with his strange aunt and uncle, he expects a summer of boredom. Little does he know that the people of Hazelwood have been waiting for him for quite a long time.

When he arrives, three astonishing things happen: First, he makes friends -- not imaginary friends but actual friends. Second, he is beaten up by the town bully; the bullies at home always ignored him. Third, the richest man in town begins to plot Jack's imminent, and hopefully painful, demise. It's up to Jack to figure out why suddenly everyone cares so much about him. Back home he was practically, well, invisible.

The Mostly True Story of Jack is an eerie tale of magic, friendship, and sacrifice. It's about things broken and things put back together. Above all, it's about finding a place to belong.
About the Author
Kelly Barnhill writes novels for children and short stories for adults and poetry that she whispers in the dark when no one is listening. Both her most recent novel", The Witch's Boy", and her first novel, "The Mostly True Story of Jack, "received four-star reviews, and her second, "Iron Hearted Violet, "received a Parents Choice Gold Award"." Kelly lives on a city street in Minneapolis, Minnesota, with a field and a creek behind her house. A coyote runs by every morning at six a.m. and a heron flies over her yard just before the sun sets on slow summer evenings. Kelly is a fast runner and a steady hiker and a good camper. She also makes delicious pie. She has received grants and awards from the Minnesota State Arts Board, the Jerome Foundation, Intermedia Arts, and the Loft. She has three very smart kids and one very smart husband.
Praise For The Mostly True Story of Jack…
* "Truly splendid...the ultimate
page-turner."

-Kirkus Reviews, starred review

*
"Suspense
builds steadily, with twists and surprises woven throughout, and friendship
emerges as a powerful theme....Barnhill explores the struggle between good and
evil and the power of love and sacrifice, creating a provocative and highly
original mystery."
-Publishers Weekly, starred review

* "Wonderful in the best possible way: filled with wonders and magic, yes, but magic that is ancient, numinous, and tied to the natural world...Barnhill's first novel for children is a marvel of both plotting and characterization, and it provides a foundation for the omnipresent magic that elevates this title to the first rank of contemporary children's literature."
-Booklist, starred review

* "A compelling story with genuine characters and a deliciously creepy atmosphere. The suspense builds from the very first page...This delightful story will captivate readers with its blend of magic, mystery, and adventure."
-VOYA, starred review

"There's a dry wit and playfulness to Barnhill's writing that recalls Lemony Snicket and Blue Balliett...a delightfully unusual gem."
-The Los Angeles Times

"Richly atmospheric, this folklorically flavored tale offers a strangely pleasing combination of midwestern charm and hauntingly creepy Tim Burton-like imagination. Barnhill reveals just enough of Hazelwood's many secrets to keep the readers gripped, and the perfectly timed pacing makes for a quick and accessible read."
-The Bulletin