Iron Hearted Violet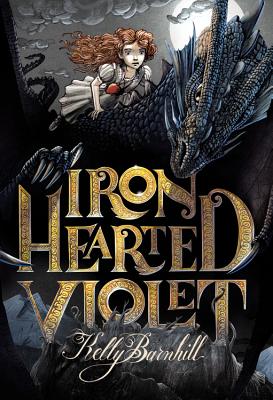 Iron Hearted Violet
Little, Brown Books for Young Readers, Hardcover, 9780316056731, 432pp.
Publication Date: October 9, 2012
* Individual store prices may vary.
Buy at Local Store
Enter your zip code below to purchase from an indie close to you.
or
Not Currently Available for Direct Purchase
Description
The end of their world begins with a story. This one.
In most fairy tales, princesses are beautiful, dragons are terrifying, and stories are harmless. This isn't most fairy tales.
Princess Violet is plain, reckless, and quite possibly too clever for her own good. Particularly when it comes to telling stories. One day she and her best friend, Demetrius, stumble upon a hidden room and find a peculiar book. A forbidden book. It tells a story of an evil being--called the Nybbas--imprisoned in their world. The story cannot be true--not really. But then the whispers start. Violet and Demetrius, along with an ancient, scarred dragon, may hold the key to the Nybbas's triumph...or its demise. It all depends on how they tell the story. After all, stories make their own rules.
Iron Hearted Violet is a story of a princess unlike any other. It is a story of the last dragon in existence, deathly afraid of its own reflection. Above all, it is a story about the power of stories, our belief in them, and how one enchanted tale changed the course of an entire kingdom.
About the Author
Kelly Barnhill writes novels for children and short stories for adults and poetry that she whispers in the dark when no one is listening. Both her most recent novel", The Witch's Boy", and her first novel, "The Mostly True Story of Jack, "received four-star reviews, and her second, "Iron Hearted Violet, "received a Parents Choice Gold Award"." Kelly lives on a city street in Minneapolis, Minnesota, with a field and a creek behind her house. A coyote runs by every morning at six a.m. and a heron flies over her yard just before the sun sets on slow summer evenings. Kelly is a fast runner and a steady hiker and a good camper. She also makes delicious pie. She has received grants and awards from the Minnesota State Arts Board, the Jerome Foundation, Intermedia Arts, and the Loft. She has three very smart kids and one very smart husband.

Iacopo Bruno once had a very special friend who had everything he could possibly want. You see, ever sincethe two of themwere kids, Bruno's friend owned a magical pencil with two perfectly sharp ends. Whenever he wanted something, he drew it and it came to life! Once, he drew a spaceship andthe bothboarded it and went on a nice little tour around the galaxy. Another time, he drew a sparkling red plane that was very similar to the Red Baron's, only a little smaller. He pilotedthe two of theminside a giant volcano that had erupted only an hour earlier. WheneverBruno's friend was tired, he drew a big bed.They dreamed through the night until the morning light shone through the drawn shades. This great friend ofhis eventually moved to China . . . but he left his magic pencil with Bruno!
Praise For Iron Hearted Violet…
A 2012 Andre Norton Award FinalistA Parents' Choice Gold Award Winner


"Barnhill inverts common fairy-tale notions...[and creates] the most inventive rendition of architecture since J.K. Rowling conjured Hogwarts....Poetic."
-The New York Times Book Review

"A splendid fantasy...layered and complex, Barnhill's story brings a modern feel to age-old fairy tale tropes."
-Publishers Weekly

"Storytelling plays a key role in the book, intriguingly blurring the line between what is real and what is imaginary....Triumphant."
-The Horn Book

"Wonderful read-aloud potential...with a likable hero and heroine, a well-paced plot, and a daunting villain."
-Booklist

"[Violet] is a princess for our century."
-VOYA