Finders Keepers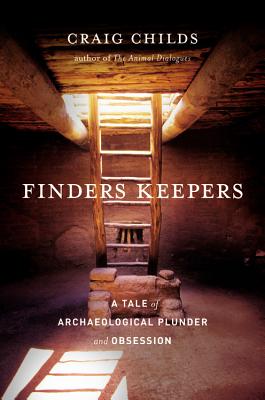 Finders Keepers
A Tale of Archaeological Plunder and Obsession
Little Brown and Company, Hardcover, 9780316066426, 274pp.
Publication Date: August 25, 2010
* Individual store prices may vary.
Buy at Local Store
Enter your zip code below to purchase from an indie close to you.
or
Not Currently Available for Direct Purchase
Description
To whom does the past belong? Is the archeologist who discovers a lost tomb a sort of hero--or a villain? If someone steals a relic from a museum and returns it to the ruin it came from, is she a thief? Written in his trademark lyrical style, Craig Childs's riveting new book is a ghost story--an intense, impassioned investigation into the nature of the past and the things we leave behind. We visit lonesome desert canyons and fancy Fifth Avenue art galleries, journey throughout the Americas, Asia, the past and the present. The result is a brilliant book about man and nature, remnants and memory, a dashing tale of crime and detection.
About the Author
Craig Childs--naturalist, adventurer, and desert ecologist--lives in Crawford, CO. His previous books include The Animal Dialogues, House of Rain, The Way Out, The Secret Knowledge of Water, and Soul of Nowhere.
Praise For Finders Keepers…
"Craig Childs understands [archeological] epiphanies, and he beautifully captures them...along with the moral ambiguities that come from exposing a long-hidden world."
-New York Times Book Review

"Reads almost like a thriller, chock-full of vendettas, suicides and large scale criminal enterprises dedicated to the multimillion-dollar trade in antiques."
-NPR, "Weekend All Things Considered"


"This is a delightful account of the complicated world of archeology by an author who loves (one might say is borderline obsessed with) the past... This nicely wrought, even poetic book about archeological excavation and the variety of people who are passionate about the past and its artifacts will fascinate everyone from high school students to professional archaeologists digging in the field. Highly recommended."
-Library Journal

"Finders Keepers may be [Childs's] most tender and ferocious dissection...If you have ever ached to possess - or lost what you believed you possessed to change, time or someone else - you may find yourself equally possessed by Childs's razor-edge analysis and compassion."
-Psychology Today

"[Childs] is the love child of Indiana Jones and George Hayduke...In his passionate and outspoken new book, he expands his scope to a global scale to look at the ethical dilemmas archeology poses. His topic is the past, and particularly, its material remains. Who owns the past? And what, if anything, do we owe it?"
-Oregonian
Sunday, Aug 29, 2010
Real archaeologists are nothing like Indiana Jones, but that doesn't mean their world isn't dramatic and dangerous. Author Craig Childs sheds a light on pot hunters and relic diggers in his new book, Finders Keepers: A Tale of Archaeological Plunder and Obsession. More at NPR.org