The Undervalued Self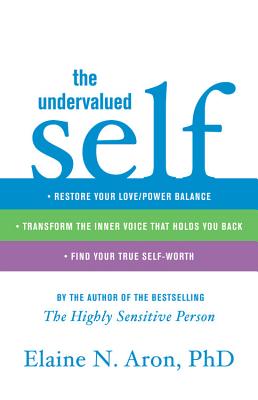 The Undervalued Self
Restore Your Love/Power Balance, Transform the Inner Voice That Holds You Back, and Find Your True Self-Worth
Little Brown and Company, Hardcover, 9780316066990, 276pp.
Publication Date: October 8, 2015
* Individual store prices may vary.
Buy at Local Store
Enter your zip code below to purchase from an indie close to you.
or
Buy Here
Description
Elaine Aron follows up her bestsellers on the highly sensitive person with a groundbreaking new book on the undervalued self. She explains that self-esteem results from having a healthy balance of love and power in our lives. Readers will learn to incorporate love into situations that seem to require power and deal with power struggles that mask themselves as issues of love. From the bedroom to the boardroom, her strategies will enable us to escape feelings of shame, defeat, and depression; dissolve relationship hostility; and become our best selves. With Aron's clear, empathetic writing and extraordinary scientific and human insight, THE UNDERVALUED SELF is a simple and effective guide to developing healthy, fulfilling relationships, and finding true self-worth.
About the Author
Elaine Aron, Ph.D., is recognized internationally as one of the leading scientists studying the psychology of love and close relationships. Her work has appeared in the New York Times, Time Magazine, and National Geographic, and she has appeared on national morning shows on many networks. She is the author of The Highly Sensitive Person, The Highly Sensitive Person in Love, and The Highly Sensitive Child. She divides her time between New York and San Francisco.
Praise For The Undervalued Self…
"Elaine Aron is a protector of the heart-a woman who offers a wise perspective on what it means to be a true, authentic human being who honors his or her soul. The Undervalued Self takes a critical (and insightful) look at what keeps people from fully expressing their power and engaging in the highest form of human activity-connecting with others in a deep and respectful way. I highly recommend this book!"
-Cheryl Richardson, New York Times bestselling author of Take Time for Your Life and Life Makeovers

"Elaine Aron's newest book, The Undervalued Self, is the centerpiece of a new psychology of liberation that is must reading for all of us--the timid and the bold alike. She carries her keen insights on human nature over from her bestseller, The Highly Sensitive Person, to this new domain of advising us how to free ourselves from the many constraints that limit our potential. She guides us on a path to discovering new joys and fulfillment in our personal and professional lives."
-Philip G. Zimbardo, author of The Time Paradox and The Lucifer Effect