New American Haggadah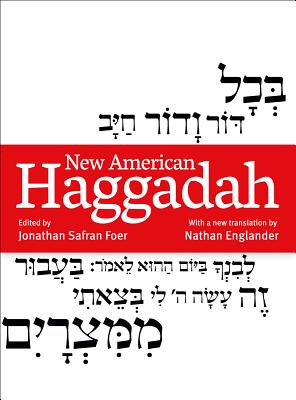 New American Haggadah
Little Brown and Company, Hardcover, 9780316069861, 160pp.
Publication Date: March 5, 2012
* Individual store prices may vary.
Buy at Local Store
Enter your zip code below to purchase from an indie close to you.
or
Buy Here
Description
Read each year around the seder table, the Haggadah recounts through prayer, song, and ritual the extraordinary story of Exodus, when Moses led the Israelites out of slavery in Egypt to wander the desert for forty years before reaching the Promised Land.

Now, Jonathan Safran Foer has orchestrated a new way of experiencing and understanding one of our oldest, most timeless, and sacred stories, with a new translation of the traditional text by Nathan Englander and provocative commentary by major Jewish writers and thinkers Jeffrey Goldberg, Lemony Snicket, Rebecca Newberger Goldstein, and Nathaniel Deutsch. Ravishingly designed and illustrated by the acclaimed Israeli artist and calligrapher Oded Ezer, New American Haggadah is an utterly unique and absorbing prayer book, the first of its kind, that brings together some of the preeminent voices of our time.
About the Author
JONATHAN SAFRAN FOER is the author of the novels Everything is Illuminated and Extremely Loud and Incredibly Close, and a work of nonfiction, Eating Animals. His books have won numerous awards and have been translated into 36 languages. He lives in Brooklyn, New York.

Nathan Englander was born in New York in 1970. His short fiction has appeared in "The Atlantic Monthly, The New Yorker, "and numerous anthologies including "The Best American Short Stories, The O. Henry Prize Anthology, "and "The Pushcart Prize," Englander's story collection, "For the Relief of Unbearable Urges "(Knopf, 1999), earned him a PEN/Malamud Award and the American Academy of Arts and Letters Sue Kauffman Prize. He was a Guggenheim Fellow in 2003 and a Fellow at the Dorothy and Lewis B. Cullman Center for Scholars and Writers at the New York Public Library in 2004. He lives in Manhattan.
Praise For New American Haggadah…
"A touching and scholarly Haggadah that offers fresh insights....what makes this Haggadah shine is the combination of commentary, design, and illustration....[it makes] us think, laugh, cry, and ask questions."
-Financial Times


"This Haggadah sings to more than one generation; it is glorious and rich, funny and affirming. And it reminds us of why we do Passover in the first place. This is what we've been waiting for."
-Writer's Bloc Presents

"New American Haggadah is as finely-designed as any book you are likely to come across, religious affiliation notwithstanding...unlike Haggadahs that take an anodyne approach to history, this one respects its audience enough to engage in some of the most pressing questions facing Jews today, trusting that they are smart enough to come to their own conclusion."
-New York Daily News

"What makes this volume such a pleasure to read, and what makes it the best book of modern religious thought in recent memory, is its demand that dialogue be a central part of worship....The New American Haggadah makes worship a radical act of intellectual inquiry."
-The Millions

"Clearly worth the wait. A gorgeous production, it is distinctive in every way....The translations are elegant, and the accompanying remarks thoroughly fitting for a contemporary, questioning, open-minded member of American Jewry."
-The Jewish Week

"Buy a copy of New American Haggadah. While the compilers demurely observe in their brief introduction that 'Like all Haggadahs before it, this one hopes to be replaced,' I am confident that it will have an uncommonly long run; it is a labor of great love and of much work and, above all, of brilliant artistry - verbal, graphic and intellectual."
-Sun-Sentinel (South Florida)

"This Haggadah is simply magnificent. The translation turns the English 'side' of the service, which has always felt clunky and awkward to me...into poetry. It's a translation finally worthy of sharing the page with the Hebrew. Which is so, so important for those of us who can't engage meaningfully with the text in the original."
-Beliefnet

"Englander's translations are crisp and clear, and the themed commentaries...are excellent, multi-vocal and concise. It is, indeed, excellent work: literate, inventive and sure to win prizes."
-The Jewish Daily Forward
Sunday, Apr 1, 2012
Novelists Jonathan Safran Foer and Nathan Englander set out to bring literary quality to an ancient sacred text with New American Haggadah. Foer edited the volume, while Englander provided new translations from the original Hebrew and Aramaic. More at NPR.org