Eating Animals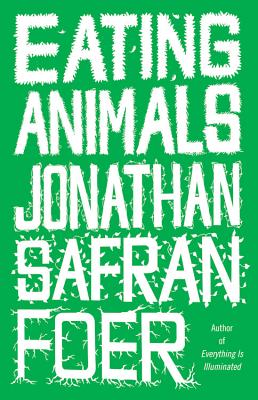 Eating Animals
Little Brown and Company, Hardcover, 9780316069908, 341pp.
Publication Date: November 1, 2009
* Individual store prices may vary.
Buy at Local Store
Enter your zip code below to purchase from an indie close to you.
or
Not Currently Available for Direct Purchase
Description
Jonathan Safran Foer spent much of his teenage and college years oscillating between omnivore and vegetarian. But on the brink of fatherhood-facing the prospect of having to make dietary choices on a child's behalf-his casual questioning took on an urgency His quest for answers ultimately required him to visit factory farms in the middle of the night, dissect the emotional ingredients of meals from his childhood, and probe some of his most primal instincts about right and wrong. Brilliantly synthesizing philosophy, literature, science, memoir and his own detective work, Eating Animals explores the many fictions we use to justify our eating habits-from folklore to pop culture to family traditions and national myth-and how such tales can lull us into a brutal forgetting. Marked by Foer's profound moral ferocity and unvarying generosity, as well as the vibrant style and creativity that made his previous books, Everything is Illuminated and Extremely Loud and Incredibly Close, widely loved, Eating Animals is a celebration and a reckoning, a story about the stories we've told-and the stories we now need to tell.
About the Author
JONATHAN SAFRAN FOER is the author of the novels Everything is Illuminated and Extremely Loud and Incredibly Close, and a work of nonfiction, Eating Animals. His books have won numerous awards and have been translated into 36 languages. He lives in Brooklyn, New York.
Praise For Eating Animals…
PRAISE FOR EATING ANIMALS:

"For a hot young writer to train his sights on a subject as unpalatable as meat production and consumption takes raw nerve. What makes Eating Animals so unusual is vegetarian Foer's empathy for human meat eaters, his willingness to let both factory farmers and food reform activists speak for themselves, and his talent for using humor to sweeten a sour argument."
-O, The Oprah Magazine

"The everyday horrors of factory farming are evoked so vividly, and the case against the people who run the system presented so convincingly, that anyone who, after reading Foer's book, continues to consume the industry's products must be without a heart, or impervious to reason, or both."

"Stirring....compelling, earnest...Foer brings an invigorating moral clarity to the topic."
-Entertainment Weekly

"Eating Animals carefully, deliberately, takes you through every relevant dimension of factory farming...One sees it from the inside, the outside, the moral high ground, the dithering consumer level, through Foer's family stories, from slaughterhouse workers, animal behaviorists, even from defenders of the system... Foer's aim is not to make your choice, but to inform it. He has done us all a great service, and we, and the animals, owe him our thanks."
-The Huffington Post

"[Eating Animals] is a postmodern version of Peter Singer's 1975 manifesto Animal Liberation...Foer is the latest in a long line of distinguished literary vegetarians."
-New York Times Book Review

"Some of our finest journalists (Michael Pollan, Eric Schlosser) and animal rights activists (Peter Singer, Temple Grandin)-not to mention Gandhi, Jesus, Pythagoras, Aristotle, Thomas Aquinas, John Locke and Immanuel Kant (and so many others)-have hurled themselves against the question of eating meat and the moral issues inherent in killing animals for food. Foer, 32, in this, his first work of nonfiction, intrepidly joins their ranks...It is the kind of wisdom that, in all its humanity and clarity, deserves a place at the table with our greatest philosophers."
-Los Angeles Times

"A work of moral philosophy...After reading this book, it's hard to disagree [with Foer]."
-San Francisco Chronicle

"The latest from novelist Foer is a surprising but characteristically brilliant memoir-investigation, boasting an exhaustively-argued account of one man-child's decade-long struggle with vegetarianism...Without pulling any punches-factory farming is given the full expose treatment-Foer combines an array of facts, astutely-written anecdotes, and his furious, inward-spinning energy to make a personal, highly entertaining take on an increasingly visible...moral question; call it, perhaps, An Omnivore's Dilemma."
-Publishers Weekly

"[Eating Animals] is extraordinarily thoughtful and intelligent, and reads more like philosophy than journalism."
-St. Louis Post-Dispatch

"Foer's case for ethical vegetarianism is wholly compelling...A blend of solid-and discomforting-reportage with fierce advocacy that will make committed carnivores squeal."
-Kirkus Reviews
Sunday, Nov 1, 2009
Author Jonathan Safran Foer grapples with the morality of meat and the brutality of the factory farm system in his new book, Eating Animals. The book is part memoir and part investigative report. More at NPR.org