Hull Zero Three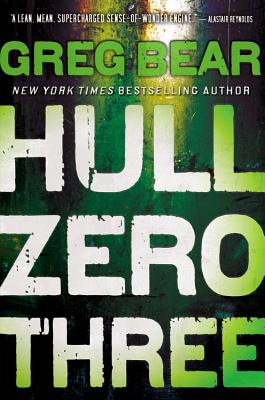 Hull Zero Three
Orbit, Paperback, 9780316072809, 336pp.
Publication Date: October 2011
* Individual store prices may vary.
Buy Now
or
Shop Local
Enter your zip code below to purchase from an indie close to you.
Description
A starship hurtles through the emptiness of space. Its destination - unknown. Its purpose - a mystery.

Now, one man wakes up. Ripped from a dream of a new home - a new planet and the woman he was meant to love in his arms - he finds himself wet, naked, and freezing to death. The dark halls are full of monsters but trusting other survivors he meets might be the greater danger.

All he has are questions -- Who is he? Where are they going? What happened to the dream of a new life? What happened to Hull 03?

All will be answered, if he can survive the ship.
About the Author
Greg Bear is the author of more than thirty books of science fiction and fantasy, including "The Forge of God", "Eon", "Slant, " and the Nebula Award winning novel "Moving Mars". He has also written gaming tie-ins such as "Halo: Cryptum", and "Hull Zero Three". Awarded two Hugos and five Nebulas for his fiction, he is one of only two authors to win a Nebula in every category. He has been called the "Best working writer of hard science fiction" by The Ultimate Encyclopedia of Science Fiction. His stories have been collected into an omnibus volume by Tor Books, "The Best of Greg Bear". Bear has served on political and scientific action committees and has advised Microsoft Corporation, the U.S. Army, the CIA, Sandia National Laboratories, Callison Architecture, Inc., and other groups and agencies. He is married to Astrid Anderson Bear and is the father of Erik and Alexandra.