The Complaints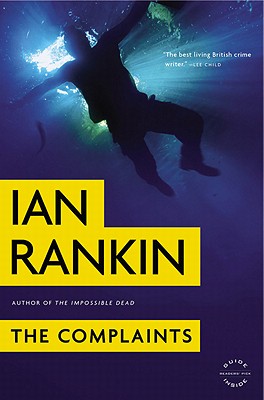 The Complaints
Reagan Arthur Books, Paperback, 9780316078764, 438pp.
Publication Date: November 2, 2011
* Individual store prices may vary.
Buy at Local Store
Enter your zip code below to purchase from an indie close to you.
or
Buy Here
Description
Nobody likes The Complaints--they're the cops who investigate other cops. It's a department known within the force as "The Dark Side," and it's where Malcolm Fox works. He's a serious man with a father in a nursing home and a sister who persists in an abusive relationship, frustrating problems about which he cannot seem to do anything.
Then the reluctant Fox is given a new case. There's a cop named Jamie Breck, and he's dirty. The problem is, no one can prove it. As Fox takes on the job, he learns that there's more to Breck than anyone thinks--dangerous knowledge, especially when a vicious murder takes place far too close to home.
In THE COMPLAINTS, Rankin proves again why he is one of the world's most beloved and bestselling crime writers, mixing unstoppable pacing with the deeper question of who decides right from wrong.
About the Author
Ian Rankin is the worldwide #1 bestselling writer of the Inspector Rebus books, including "Knots and Crosses, Hide and Seek, Let It Bleed, Black and Blue, Set in Darkness, Resurrection Men, A Question of Blood, The Falls" and "Exit Music". He is also the author of "The Complaints" and "Doors Open". He has won an Edgar Award, a Gold Dagger for fiction, a Diamond Dagger for career excellence, and the Chandler-Fulbright Award. He has been elected a Hawthornden Fellow, and received the Order of the British Empire (OBE) for his contributions to literature. He graduated from the University of Edinburgh in 1982. He lives in Edinburgh, Scotland, with his wife and their two sons.
Praise For The Complaints…
"Rankin is a master at what, for me, is one of the important aspects of a crime novel: the integration of setting, plot, characters and a theme which, for Rankin, is the moral dimension never far from his writing. . . . Fox is so fully realised and interesting a character, his job in "the complaints" so fraught with fascinating possibilities, that we can surely hope to meet him again."
-The Guardian

"With its Edinburgh setting, suave crime lords and renegade officers, The Complaints will be familiar territory to Rebus fans -- even if its hero isn't. Getting to know this man, an intriguing mix of apathy and action, is almost like a courtship--each new situation reveals something that makes the reader want to know yet more."
-The Independent

"Rankin delivers . . . an excellent cop novel full of action, good dialogue, well-crafted characters and an authentic backdrop."
-The Times