Ike's Bluff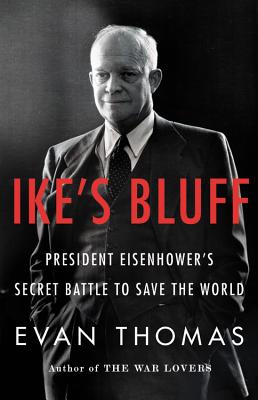 Ike's Bluff
President Eisenhower's Secret Battle to Save the World
Little Brown and Company, Hardcover, 9780316091046, 484pp.
Publication Date: September 25, 2012
* Individual store prices may vary.
Not Currently Available for Direct Purchase
or
Shop Local
Enter your zip code below to purchase from an indie close to you.
Description
Evan Thomas's startling account of how the underrated Dwight Eisenhower saved the world from nuclear holocaust. Upon assuming the presidency in 1953, Dwight Eisenhower set about to make good on his campaign promise to end the Korean War. Yet while Eisenhower was quickly viewed by many as a doddering lightweight, behind the bland smile and simple speech was a master tactician. To end the hostilities, Eisenhower would take a colossal risk by bluffing that he might use nuclear weapons against the Communist Chinese, while at the same time restraining his generals and advisors who favored the strikes. Ike's gamble was of such magnitude that there could be but two outcomes: thousands of lives saved, or millions of lives lost. A tense, vivid and revisionist account of a president who was then, and still is today, underestimated, IKE'S BLUFF is history at its most provocative and thrilling.
About the Author
Evan Thomas is the author or coauthor of a number of books, including The Wise Men: Six Friends and the World They Made, with Walter Isaacson, and Robert Kennedy: His Life.
Praise For Ike's Bluff…
Praise for IKE'S BLUFF:

"With grace, insight, and originality, Evan Thomas has written a brilliant and engaging book about the most important of subjects: how close we came to Armageddon in the seemingly placid 1950s. Thomas's Eisenhower is a canny savior, a president who kept the peace through feint and bluff. No one writes more astutely or more honestly than Evan Thomas. This is the work of a master of storytelling at his best."
-author of Thomas Jefferson: The Art of Power

"[Thomas's] detailed, engaging pictures of Eisenhower's personality bring him vividly to life. Most important, by the end of the book Thomas has made his case that Dwight Eisenhower's 'greatest victories were the wars he did not fight.' "
-New York Times Book Review

"Evan Thomas has written an insightful and penetrating study of my father, Dwight D. Eisenhower. Dad was a hard man to know; he played it close to the chest. So despite my extensive exposure to him throughout forty six years, I still found myself learning new aspects, some of which, I must admit, are a bit painful. But the balance that Thomas achieves between Eisenhower the public servant and Eisenhower the man is, in my opinion, as close to the mark as we are likely to see."

"Evan Thomas's profoundly important book shows how the card-playing general who did as much as anyone to win World War II became the president most adroit at preserving peace. Behind his open smile, Eisenhower was a secretive and subtle leader with quiet moral courage. By projecting confidence while keeping his intentions concealed, he became the model of a nuclear-age peacekeeper. Thomas has produced a fascinating history that is also a brilliant guide to great leadership."
-author of Steve Jobs

"A bustling, anecdotal book with a high-concept premise. [Thomas] approaches the ever more changeable Eisenhower legacy with new and intriguing questions."
-The New York Times

"Well-researched and highly readable...Thomas' account is sure to appeal to older readers who can recall the mandatory duck-and-cover drills in the classroom and to others with an interest in a fascinating and pivotal period when the nation was in better hands than many at the time probably realized."
-The Associated Press

"[Thomas is] a five-star biographer who blows apart that image [of Ike as a bumbling old man] with devastating detail."
-Vanity Fair

"A thoroughly researched, tightly organized and briskly written biography...Thomas is especially skilled at bringing characters of the era to life..."
-Washington Post

"Dwight Eisenhower was a great general and President because he was a great leader, and Ike's Bluff uncracks the code. Evan Thomas's original and fascinating book is an immersion in the Eisenhower School of Leadership, with lessons not only for Presidents and military officers but leaders in other arenas of American life operating in moments of both tranquility and rapid change. Especially in these times, Thomas's book is an essential reminder that strong leadership can be exercised with kindness, morality and respect for opponents."
-author of The Conquerors

"Thomas has written a book that elucidates Eisenhower's wisdom for general readers."
-Richmond Times-Dispatch

"Highly absorbing."
-Huffington Post

"An imaginative, approachable volume that may well accelerate Eisenhower's slow but seemingly inexorable movement toward presidential greatness. Evan Thomas is right. The greatest victories of the man who helped win World War II were 'the wars he did not fight."
-Boston Globe

"An enjoyable book, fast-moving and packed with anecdotes."
-Los Angeles Times

"Engaging and insightful...Thomas' treatment is valuable...for the verve of its telling and convenience of bringing disparate and specialized sources together."
-National Interest

"Incisive and direct...Evan Thomas brings considerable rhetorical power to his examination of the Eisenhower presidency."
-Dallas Morning News

"Works such as Ike's Bluff are encouraging historians and the media to take a closer and more objective look at Dwight D. Eisenhower."
-Washington Times

"[Thomas] is doing [for Eisenhower] what David McCullough did for John Adams."
-Chris Matthews on Hardball

"When the stakes for America and the world were highest, Eisenhower played a winning hand. So, too, does his latest biographer."
-Christian Science Monitor

"Ike's Bluff is a testimony to the need for national leaders who place the nation above self...The book should be required reading for every member of Congress and the president as well."
-Richard Fisher, President of the Federal Reserve Bank of Dallas

"Historian and journalist Evan Thomas argues convincingly that keeping the United States out of war is a chief reason [Ike's reputation is on the rise]."
-Virginian-Pilot