Alex Cross, Run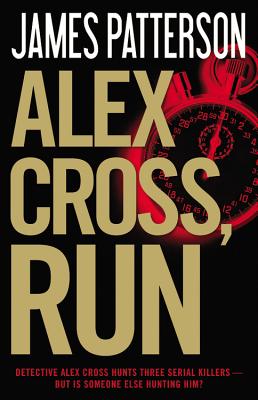 Alex Cross, Run
Little Brown and Company, Hardcover, 9780316097512, 407pp.
Publication Date: February 18, 2013
* Individual store prices may vary.
Buy Now
or
Shop Local
Enter your zip code below to purchase from an indie close to you.
Description
Kill Alex Cross was "Patterson at the top of his game" (Washington Post). Alex Cross, Run is even better. DON'T LOOK, ALEX CROSS Top plastic surgeon Elijah Creem is renowned for his skills in the operating room, and for his wild, no-expense-spared "industry parties," bringing in underage exotic dancers and models for nights of drugs, champagne, and uninhibited sex. That is, until Detective Alex Cross busts one of Creem's lavish soirees and ruins his fun. Now Creem is willing to do anything to avoid going to jail. DON'T THINK, ALEX CROSS But Alex doesn't have time to dwell on that case. A beautiful woman has been found murdered in her car, a lock of her hair viciously ripped off. Then a second woman is found hanging from a sixth-floor window with a brutal scar slashed across her stomach. When a third mutilated body is discovered, rumors of three serial killers on the loose send Washington D.C. into an all-out frenzy. JUST RUN Alex is under so much pressure to solve these three grim cases that he hasn't noticed that someone else investigating him-someone so obsessed and so twisted that they'll do anything-ANYTHING- to get the vengeance they require. Alex Cross, Run is James Patterson's most unrelenting story yet-a white-hot, sensational thrill ride with the most extreme and gripping characters Patterson has ever brought to life.
About the Author
James Patterson is the #1 New York Times bestselling author of many books, including the blockbuster series MAXIMUM RIDE. More than 100 million of his books are in print around the world, making him one of the top-selling writers of all time.

Praise For Alex Cross, Run…
READERS LOVE CROSS FIRE!

"The Cross family will never be the same! Cross Fire will leave you turning page after page with endless suspense."—Beyond the Bookshelf

"In true Patterson fashion, the story includes every element a good cop tale needs: shootouts, car chases, mysterious characters, and bad guys galore."—John M. Wills, author, former Chicago Police Officer, and retired FBI Agent

"Lives are lost, people Alex loves are in serious danger, and everyone is afraid that they're going to be next on the sniper's list. This is another great and addicting tale of murder and mayhem--Alex Cross style! I was hard pressed to put it down!"—Bibliophilic Book Blog