Dare Me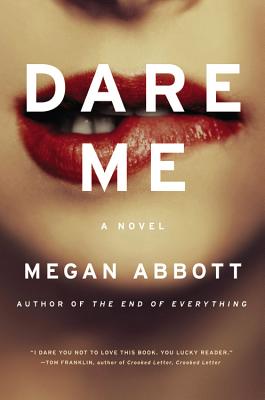 Dare Me
Reagan Arthur Books, Hardcover, 9780316097772, 288pp.
Publication Date: July 31, 2012
* Individual store prices may vary.
Not Currently Available for Direct Purchase
or
Shop Local
Enter your zip code below to purchase from an indie close to you.
Description
Addy Hanlon has always been Beth Cassidy's best friend and trusted lieutenant. Beth calls the shots and Addy carries them out, a long-established order of things that has brought them to the pinnacle of their high-school careers. Now they're seniors who rule the intensely competitive cheer squad, feared and followed by the other girls -- until the young new coach arrives.

Cool and commanding, an emissary from the adult world just beyond their reach, Coach Colette French draws Addy and the other cheerleaders into her life. Only Beth, unsettled by the new regime, remains outside Coach's golden circle, waging a subtle but vicious campaign to regain her position as "top girl" -- both with the team and with Addy herself.

Then a suicide focuses a police investigation on Coach and her squad. After the first wave of shock and grief, Addy tries to uncover the truth behind the death -- and learns that the boundary between loyalty and love can be dangerous terrain.

The raw passions of girlhood are brought to life in this taut, unflinching exploration of friendship, ambition, and power. Award-winning novelist Megan Abbott, writing with what Tom Perrotta has hailed as "total authority and an almost desperate intensity," provides a harrowing glimpse into the dark heart of the all-American girl.
About the Author
Megan Abbott est l auteur de six precedents romans et a obtenu le prestigieux Prix Edgar Allan Poe (2008) qui recompense les meilleures 1/2uvres policieres. Elle est Docteur en Litterature de l Universite de New York, et beneficie actuellement de la residence d ecrivain John et Renee Grisham de l Universite du Mississippi. Tous ses romans sont publies en France chez Lattes/Le Masque.
Praise For Dare Me…
EARLY PRAISE FOR DARE ME:

"A fascinating, almost voyeuristic, glimpse into the power struggle that goes on between teenaged girls. Not just any teenaged girls-cheerleaders-with their own unique hierarchy and fierce code of loyalty, which they'll protect at any cost. There's a dark and twisted love story here, told with a rich sensual undertone that lingers long after you close the last page, still breathing in your ear: Dare me."
-Chevy Stevens, New York Times bestselling author of Still Missing and Never Knowing

"Arresting, original and unputdownable."
-Rosamund Lupton, New York Times bestselling author of Sister

"I dare you not to love this book. You lucky reader."
-Tom Franklin, New York Times bestselling author of Crooked Letter, Crooked Letter

"DARE ME sneaks up on you from behind, pulling on long-forgotten memories of teenaged desperation, obsession, and desire. This is truly masterful storytelling."
-Alafair Burke, author of Never Tell

"Megan Abbott's brilliant new book presents a number of possibilities-the mysterious and the erotic, as well as the inevitable and paradoxical lessons of girlhood-with such illumination that the joyful terrors of adolescence were once again present in me. Abbott's characters, confronted with unaccustomed questions and strange, new difficulties, remind us that the loss of innocence can, if we are fortunate, emerge into a lustrous wisdom."
-Susanna Moore, author of In the Cut

"In Dare Me Megan Abbott guides us into the subculture of athletic and fierce young cheerleaders, who train together, compete, andbond until they form a rugged unit much as Marines form a rugged unit. She finds the nearly sinister underside of everyday events and somehow builds great suspense from ingredients that seem so familiar. Abbott has become expert at revealing truths we thought we knew but didn't, delivered in prose that is by turns elegant and incantatory."
-Daniel Woodrell, author of Winter's Bone