The Terror of Living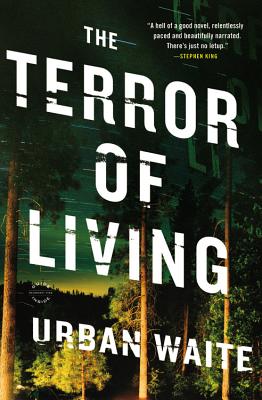 The Terror of Living
Back Bay Books, Paperback, 9780316097888, 336pp.
Publication Date: January 12, 2012
* Individual store prices may vary.
Buy Now
or
Shop Local
Enter your zip code below to purchase from an indie close to you.
Description
Phil Hunt is deep in trouble. For twenty years he's lived in Washington State, raising horses with his wife on his small farm and trying to stay clear of the law. But when a less-than-legal side job goes horribly wrong, Hunt is suddenly on the run from two men: Drake, the deputy sheriff who intends to incarcerate him, and Grady, the vicious hitman with a knife fetish who means to carve him limb from limb.

An explosive chase ensues, and Hunt is forced to use all his willpower and toughness to rescue his quiet life and save his skin. Headlong and gorgeously written, with memorable characters and a vividly powerful sense of place, The Terror of Living marks the arrival of a new master of narrative suspense.
About the Author
Urban Waite is the author of the critically acclaimed novels The Carrion Birds and The Terror of Living, which was named one of Esquire's Ten Best Books of 2011. His work has been a finalist for the New Mexico and Arizona Book Awards, has been translated in nine languages, and is sold worldwide. He lives in Seattle with his wife.
Praise For The Terror of Living…
"The Terror of Living opens with gentle beauty, calm before a bloody storm, before building intensity with swift, jarring, and confident storytelling power. A fine debut from a writer of obvious and substantial talents. Readers--including this one--will certainly be following Urban Waite for years to come."
-Michael Koryta, author of So Cold the River

"In the tradition of No Country for Old Men, Urban Waite has written a nail-biter that takes off from the get-go and never stops, a book chock full of memorable characters and kick-ass writing. Clear your calendar before reading this one, folks, because once you start there's no stopping until the end, which arrived much too quickly for this reader. A smashing debut."
-Tom Franklin, author of Hell at the Breech and Crooked Letter, Crooked Letter

"A supercharged suspenseful thriller peopled by colorful characters and driven by terrifying events that begin at mach speed and never slow for a moment. Supremely cinematic."
-Joseph Wambaugh, author of the Hollywood Station novels

"The Terror of Living is a smart, swiftly-paced and bloody Western for our moment. Urban Waite is a writer who won't let a reader wander away--he keeps you reading, and reading, and rewards all your attention with a powerhouse story and prose to match."
-Daniel Woodrell, author of Winter's Bone and The Bayou Trilogy

"A hell of a good novel, relentlessly paced and beautifully narrated. There's just no let-up. An auspicious debut."

-Stephen King

"In Urban Waite's debut novel, The Terror of Living, three men-all on different sides of the law-find their lives tangled up like roots after a heroin delivery goes dead wrong. Deeo in the woods, with rifles blasting and knives flashing, with the gray faces of the mountains looking down at them, they seek revenge and salvation in one another. This is a book for and about men, one of the best of the year."
-Esquire