Triple Crossing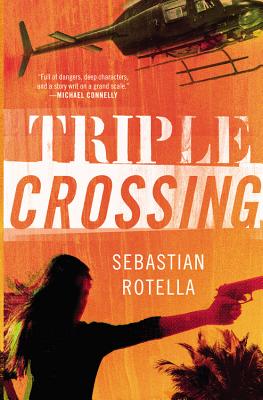 Triple Crossing
Mulholland Books, Paperback, 9780316105224, 416pp.
Publication Date: August 14, 2012
* Individual store prices may vary.
Buy at Local Store
Enter your zip code below to purchase from an indie close to you.
or
Buy Here
Description
Valentine Pescatore is a rookie Border Patrol agent on the edge. He gets in trouble and finds himself recruited by U.S. agent Isabel Puente and Leo Mendez, chief of an elite Tijuana police unit. They are targeting a ruthless Mexican crime family and the operation needs a man on the inside.
Soon Pescatore is in a drug lord's crew, drawn into a world of smuggling, corruption, and murder. The outlaw code of the gangsters is seductive-but so is Pescatore's own code, and his growing love for Isabel Puente. As violence escalates, all three plunge into the deadly no-man's-land of South America's Triple Border, where a bloody showdown will test their loyalties and beliefs. Written with rapid-fire intensity, TRIPLE CROSSING is an explosive and riveting thriller.
About the Author
Sebastian Rotella is an award-winning foreign correspondent and investigative reporter at ProPublica, a New York City-based nonprofit that produces journalism in the public interest. Rotella worked for almost twenty-three years for the "Los Angeles Times", covering everything from terrorism to arts to the Mexican border. In April 2012, Rotella was named winner of the seventh annual Urbino Press Award, which recognizes members of the American press who are committed to excellence in journalism. He served most recently as a national security correspondent in Washington, DC, and his previous posts include international investigative correspondent and bureau chief in Paris and Buenos Aires, with assignments in the Middle East and North Africa. In 2006, he was named a Pulitzer Prize finalist for international reporting for his coverage of terrorism and Muslim communities in Europe. He won the German Marshall Fund's Peter Weitz award for excellence in European reporting the same year. He was part of a team whose coverage of al-Qaida received an award from the Overseas Press Club and finalist honors for Harvard University's Goldsmith Prize for Investigative Reporting in 2002. In 2001, he won Columbia University's Maria Moors Cabot Prize for his career coverage of Latin America. His work in Latin America also won honors from the Overseas Press Club, the Inter-American Press Association, and the American Society of Newspaper Editors. He is the author of two books: "Twilight on the Line: Underworlds and Politics at the U.S.-Mexico Border", which was named a New York Times Notable Book in 1998; and the novel "Triple Crossing", published by Little, Brown/Mulholland Books in 2011. He speaks Spanish, French, and Italian. Rotella is a graduate of the University of Michigan and was born in Chicago.
Praise For Triple Crossing…
"This is one of the most accomplished first novels I have ever read. Triple Crossing is full of dangers, deep characters and a story writ on a grand scale."

"An honest and engrossing journey into a world of violence and corruption....Rotella knows how the police work, how the criminals operate and how bribes and violence subvert the law. He employs a journalist's sharp eye and a novelist's deft touch to give us a rich portrait of the sights, smells, sounds, beauties, and dangers of life south of the border."
-Washington Post

"A remarkable first novel....The pounding action scenes are driven by Rotella's ferocious prose style."
-New York Times Book Review

"A devastating tale of drug trafficking and corruption. Anyone who has spent time crossing between San Diego and Tijuana will recognize the sharp and accurate picture that Rotella has created in these pages....The reader will be racing along through the pages of Rotella's novel at near break-neck speed."
-Dallas Morning News

"Excellent....Rotella's story opens a window into the true globalization of the business of crime."
-Los Angeles Times

"Sure to please...The action never stops."
-Cleveland Plain Dealer

"Superb fiction debut....Unflinching views of a double agent's harrowing life, a violence-drenched Mexican jail, and the wild border areas complement the provocative plot."
-Publishers Weekly

"A strongly choreographed, authentically detailed, and sharply funny tale of cultural complexity and raging global criminality."
-Booklist

"A fast-paced thriller that rings true to the real story behind the political posturing over the drug war, illegal immigration, and border security."
-Kirkus

"Rotella's crime drama captures the feel of the rampant corruption that is the stuff of headlines in the United States and Mexico. This should satisfy readers far beyond the border."
-Library Journal

"Rotella's profound understanding of the many hidden worlds of the border takes this thriller into the realms of nightmare and exquisite terror."
-author of Into the Beautiful North