The Night Train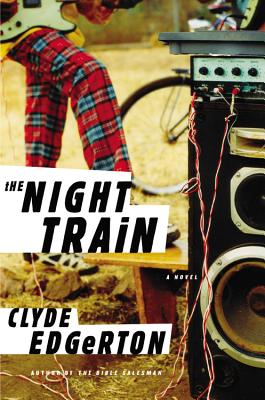 The Night Train
Little, Brown and Company, Hardcover, 9780316117593, 224pp.
Publication Date: July 1, 2011
* Individual store prices may vary.
Buy at Local Store
Enter your zip code below to purchase from an indie close to you.
or
Not Currently Available for Direct Purchase
Description
In 1963, at the age of 17, Dwayne Hallston discovers James Brown and wants to perform just like him. His band, the Amazing Rumblers, studies and rehearses Brown's "Live at the Apollo" album in the storage room of his father's shop in their small North Carolina town. Meanwhile, Dwayne's forbidden black friend Larry--aspiring to play piano like Thelonius Monk--apprentices to a jazz musician called the Bleeder. His mother hopes music will allow him to escape the South.
A dancing chicken and a mutual passion for music help Dwayne and Larry as they try to achieve their dreams and maintain their friendship, even while their world says both are impossible. In THE NIGHT TRAIN, Edgerton's trademark humor reminds us of our divided national history and the way music has helped bring us together.
About the Author
Clyde Edgerton is the author of nine previous novels. He teaches creative writing at the University of North Carolina Wilmington, where he lives with his wife, Kristina, and their children.
Praise For The Night Train…
PRAISE FOR CLYDE EDGERTON

"How good it feels to throw back one's head and howl with a great comic novel. The 'burial tuck' alone should make The Bible Salesman a classic."

"A vivid and affecting portrait of the way many of us struggle -- and, when possible, take comfort -- in the real world."
-PEOPLE on Lunch at the Piccadilly

"An American treasure...Edgerton's literary line goes back straight as an arrow to the likes of Sherwood Anderson and Mark Twain."
-SAN DIEGO TRIBUNE on In Memory of Junior

"Whimsical, utterly original, ultimately brilliant novel of small-town North Carolina and Vietnam."
-THE LOS ANGELES TIMES on The Floatplane Notebooks

"Splendid...what James Thurber might have written had he lived in North Carolina."
-THE WASHINGTON POST on Raney

"Like all of Clyde Edgerton's work, The Night Train has plenty of laugh-out-loud moments, but what I love most about this novel is its hard-earned hopefulness that if music can change, perhaps hearts can as well."
-Ron Rash, author of Serena (PEN/Faulkner Award finalist) and Burning Bright (winner of the Frank O'Connor Award)

"The Night Train will sure enough get us clear of the shucks and the dread. It is a book to remind us all about the possibilities in life, no matter what side of the tracks we inhabit. Within these pages is a real place, a community of folks divided by the railroad and more. Their hopes and fears and hardships and guilt are as indelible as the notes in the margins of their beat-up family Bibles. Their laughter in the air is as true as a steam whistle. Clyde Edgerton has an ear for the good stuff, and he has put music on the page for us to read."
-Glenn Taylor, author of The Ballad of Trenchmouth Taggart (NBCC Award finalist in fiction)

"I don't know how Clyde Edgerton does what he does, how he makes me both happy and sad at the same time, but I'm glad he's doing it. The Night Train features some of the finest chickenry in literature, including a rooster flung into an audience watching Hitchcock's The Birds and a hen that dances on a pan. It also has some of the finest characters, especially Larry Lime, that Edgerton has ever dreamed up. But what I like best about this novel is its even-handed look at race relations in 1963 in North Carolina, how he manages to make time timeless and place universal. Edgerton is funny and wise as ever and, somehow, keeps getting better."
-Tom Franklin, author of Crooked Letter, Crooked Letter

"The Night Train is classic Edgerton, with crackling wit and lines that make you laugh out loud--but also classic is the great, generous heart at its center that leaves the reader filled with hope and compassion."
-Jill McCorkle, author of Going Away Shoes

"Two music-mad boys live in divided communities, poignantly characterized by the burdens of their respective pasts....Edgerton sustains a wry tone...The characters are drawn with compassion and droll humor, and while not much happens to them, what happens between them is the work of a generous, restrained writer whose skill and craft allows small scenes to tell a larger, more profound story."
-Publishers Weekly (starred review)

"The delightfulness of the opening scene sets the stage for this novel's key elements....Edgerton frames his sensitive new novel around the unlikely and disapproved-of friendship between Larry, the boy the Bleeder is teaching to play, and Dwayne, a white boy who fronts a group called the Amazing Ramblers and is determined to break out of town on a talent ticket. It is the wealth of well-understood characters that carries the reader through this engaging novel's easily consumed pages."
-Brad Hooper, Booklist (starred review)