The Four Fingers of Death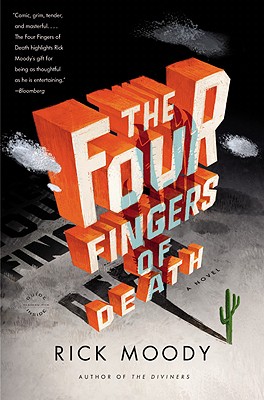 The Four Fingers of Death
Back Bay Books, Paperback, 9780316118934, 725pp.
Publication Date: July 13, 2011
* Individual store prices may vary.
Buy at Local Store
Enter your zip code below to purchase from an indie close to you.
or
Buy Here
Description
Montese Crandall is a downtrodden writer whose rare collection of baseball cards won't sustain him, financially or emotionally, through the grave illness of his wife. Luckily, he swindles himself a job churning out a novelization of the 2025 remake of a 1963 horror film, The Crawling Hand. Crandall tells therein of the United States, in a bid to regain global eminence, launching at last its doomed manned mission to Mars. Three space pods with nine Americans on board travel three months, expecting to spend three years as the planet's first colonists. When a secret mission to retrieve a flesh-eating bacterium for use in bio-warfare is uncovered, mayhem ensues.
Only a lonely human arm (missing its middle finger) returns to earth, crash-landing in the Arizona desert. The arm may hold the secret to reanimation or it may simply be an infectious killing machine. It's crawl through the heartbroken wasteland of civilization is recorded in this stunningly inventive, sometimes hilarious, monumental novel.
About the Author
William Carlos Williams (1883-1963) was born in Rutherford, New Jersey. He received his M.D. from the University of Pennsylvania, where he met and befriended Ezra Pound and H.D. (Hilda Doolittle). At the same time as maintaining a popular medical practice, he became a prolific poet, novelist, essayist, and playwright. Experimenting with new techniques of meter and lineation, Williams sought to invent an entirely fresh-and singularly American-poetics, whose subject matter was centered on the everyday circumstances of life and the lives of common people. He was inducted into the New Jersey Hall of Fame in 2009.
Praise For The Four Fingers of Death…
"[A] comic tour de force...Moody is at his most daring and arresting."
-BookForum

"Moody's powers of invention, his ease in his own prose, his ability to develop interesting characters--in short, his enormous gifts as a writer--are on full display here. And when he wants to write a gorgeous paragraph, he delivers as you know he can, even when he's still spoofing."
-The New York Times Book Review

"A grab bag of sardonic fun."
-The Dallas Morning News

"Moody's foremost accomplishment....Moves with unapologetic swagger, as it flaunts the extremes of storytelling."
-Bookslut

"As pulpy... as The Four Fingers of Death might sound, it's oddly something sweeter and more profound."
-Associated Press

"Comic, grim, tender and masterful."
-Bloomberg

"Sci-fi as only Moody could write it--in turns touching and outrageous."
-"Very Short List," The Observer

"700-plus pages of wacky, wonderful imaginings."
-More

"Entertaining and often poignant."
-The New Yorker