The Library of Congress Illustrated Timeline of the Civil War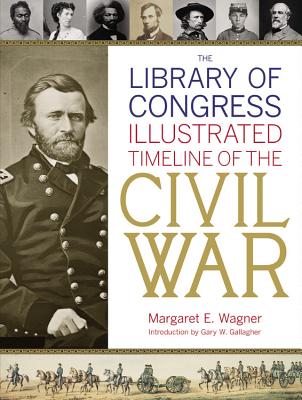 The Library of Congress Illustrated Timeline of the Civil War
Little Brown and Company, Hardcover, 9780316120685, 254pp.
Publication Date: October 24, 2011
* Individual store prices may vary.
Buy at Local Store
Enter your zip code below to purchase from an indie close to you.
or
Buy Here
Description
With striking visuals from the Library of Congress' unparalleled archive, THE LIBRARY OF CONGRESS ILLUSTRATED TIMELINE OF THE CIVIL WAR is an authoritative and engaging narrative of the domestic conflict that determined the course of American history. A detailed chronological timeline of the war captures the harrowing intensity of 19th-century warfare in first-hand accounts from soldiers, nurses, and front-line journalists. Readers will be enthralled by speech drafts in Lincoln's own hand, quotes from the likes of Frederick Douglass and Robert E. Lee, and portraits of key soldiers and politicians who are not covered in standard textbooks. The Illustrated Timeline's exciting new source material and lucid organization will give Civil War enthusiasts a fresh look at this defining period in our nation's history.
About the Author
Magaret E. Wagner is a writer and editor at the Library of Congress who has contributed essays on military history to many Library publications. She was coeditor of "Mapping the Civil War, America's Treasures in the Library of Congress, " and "The Nation's Library."



Gary W. Gallagher is John L. Nau III Professor of History at the University of Virginia. He has written or edited two dozen books in the field of Civil War history, including "The Shenandoah Valley Campaign of 1864" and "Lee and His Army in Confederate History" (both from the University of North Carolina Press).
Praise For The Library of Congress Illustrated Timeline of the Civil War…
"a real factual and pictorial treasure. . . . It is hard to imagine a more accessible survey of the Civil War than this one."

-BookPage

"In addition to the timeline - a wonderful tool if you want to look up a particular date (or thereabouts) 150 years ago - Wagner has written an authoritative account of the war. And her book features more than 350 photos, maps, manuscripts, lithographs and original drawings, many rare and never before published."

---Richmond Times-Dispatch


"This is an extraordinarily valuable reference work that can also be read as a connected narrative of the Civil War. Incisive descriptions of all significant events are here in chronological order, along with useful information on lesser-known persons and incidents. The many illustrations and their captions add yet another important dimension to this wonderful book."
-James M. McPherson, Pulitzer Prize-winning author of Battle Cry of Freedom

"A rich feast of words and pictures that only the Library of Congress-with its vast resources and incomparable expertise-could produce. There have been Civil War almanacs and chronologies before-but none so sumptuous and irresistible-none, like this one, a genuine page turner."
-Harold Holzer, editor of The New York Times The Complete Civil War 1861-1865 and chairman of the Abraham Lincoln Bicentennial Foundation


"Lavishly illustrated with many rare drawings and photographs, this detailed, narrative timeline of the Civil War will both instruct and delight all who are drawn to the gravitas of these events. Richer and more effective than E. B. Long's classic The Civil War Day by Day, this work is laced with the poignant voices of participants, from presidents to privates, and it unblinkingly portrays the real war on battlefields as well as the tortured collective struggle to destroy American slavery."

-David W. Blight, author of Race and Reunion: The Civil War in American Memory, and American Oracle: The Civil War in the Civil Rights Era.


@font-face {
font-family: "Times";
}@font-face {
font-family: "Calibri";
}@font-face {
font-family: "Cambria";
}p.MsoNormal, li.MsoNormal, div.MsoNormal { margin: 0in 0in 0.0001pt; font-size: 12pt; font-family: "Times New Roman"; }div.Section1 { page: Section1; }




"The meaning of the war has been debated for the
past 150 years, and it is destined to be debated for the next 150 years as
well. But because of the splendid detail marshaled in this remarkable timeline,
there can be no dispute over what happened, when, and where, and what it looked
like. This is an historic accomplishment of scholarship and imagination."

-Henry Louis Gates, Jr., Alphonse Fletcher University Professor, Harvard University