Saints and Sinners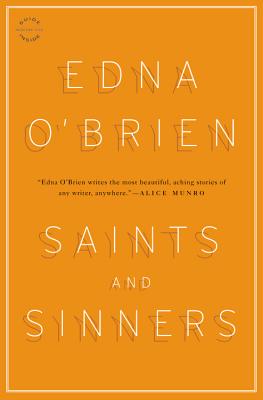 Saints and Sinners
Stories
Back Bay Books, Paperback, 9780316122726, 272pp.
Publication Date: May 9, 2011
* Individual store prices may vary.
Not Currently Available for Direct Purchase
or
Shop Local
Enter your zip code below to purchase from an indie close to you.
Description
With her inimitable gift for describing the workings of the heart and mind, Edna O'Brien introduces us to a vivid new cast of restless, searching people who-whether in the Irish countryside or London or New York-remind us of our own humanity.

In "Send My Roots Rain," Miss Gilhooley, a librarian, waits in the lobby of a posh Dublin hotel-expecting to meet a celebrated poet while reflecting on the great love who disappointed her. The Irish workers of "The Shovel Kings" have pipe dreams of becoming millionaires in London, but long for their quickly changing homeland-exiles in both places. "Green Georgette" is a searing anatomy of class, through the eyes of a little girl; "Old Wounds" illuminates the importance of family and memory in old age. In language that is always bold and vital, Edna O'Brien pays tribute to the universal forces that rule our lives.
About the Author
EDNA O BRIEN is the author of eighteen works of fiction, including the New York Times Notable Books and Book Sense picks Wild Decembers and In the Forest, and Lantern Slides, which won the Los Angeles Times Book Prize. In 2002 she won the National Medal for Fiction from the National Arts Club. An honorary member of the American Academy of Arts and Letters, O Brien was born and grew up in Ireland and has lived in London for many years.
Praise For Saints and Sinners…
PRAISE FOR SAINTS AND SINNERS:

"Edna O'Brien writes the most beautiful, aching stories of any writer, anywhere."
-Alice Munro

"One great virtue of Edna O'Brien's writing is the sensation it gives of a world made new by language. . . . A lyric language which is all the more trustworthy because it issues from a sensibility that has known the costs as well as the rewards of being alive."
-Seamus Heaney, from "Citation, Lifetime Achievement Award"

"O'Brien mixes her trademark lyricism with a brutal depiction of lives marred by violence...Throughout, tragedy mingles with beauty, yearning with survival, and destruction with moments of grace."
-Publishers Weekly

"Fifty years after leaving County Clare for London, the doyenne of Irish fiction, Edna O'Brien, is still preoccupied with the land of her birth....[Saints and Sinners] is a shimmering book--lyric, but highly controlled."
-Rachel Cooke, The Observer (London)

"Ever since the publication of The Country Girls, in 1960, O'Brien's work has been recognized as something new, turning themes of sexual repression into joyful experiment and the age-old sadness of exile into an opportunity to explore a brave new world....Subversion is what catapulted Edna O'Brien to literary stardom an incredible half century ago and, at the top of her game, she can still cut the ground from under your feet."
-Aisling Foster, The Times (London)

"The world, if viewed in clichéd terms, is indeed populated by the two types of individuals cited in the title of this new collection of short stories by the doyenne of contemporary Irish literature, an acknowledged master of the form. But that is all that is clichéd about this splendid book....Eleven stories in total bring literary lovers' rapt attention to this author's clear, immaculate style and her brilliant selection of detail, nimble plot construction, and astute character delineation. Recommend O'Brien along with William Trevor and Alice Munro."
-Brad Hooper, Booklist

"Half a century after her incendiary debut novel...Edna O'Brien still holds her place as a revealer of the nation's soul. She shows its 'maimed, stark and misshapen, but ferociously tenacious' character, in this latest elegant, uncluttered collection, to have a remarkable, tragic forbearance for suffering...In a lovely flourish, O'Brien scatters her stories with small, beautifully-tended and thrillingly described gardens, as lush as they are sweet-smelling. Some sit on the fringes of the story, others offer respite for characters who stumble across them in passing, but they emerge time and again like little plots of makeshift Edens for the fallen."
-Arifa Akbar, Independent (London)

"O'Brien's new collection of stories, Saints and Sinners, features plenty of sex, plenty of people who are all very much alive, living bravely in the face of death. Her protagonists are wonderfully flawed and vulnerable....complexity and ambivalence gives her work great depth and charge...So who are the eponymous saints? Who are the new Adam and Eve? O'Brien's compassionate, mesmerizing tales exhilaratingly refuse to spell that out."
-Michele Roberts, Financial Times
Tuesday, May 17, 2011
In the hands of a talented writer, the short story can illuminate the human condition with remarkable economy. It can leave you devastated � or elated � in a matter of minutes. More at NPR.org