Growing Up Brave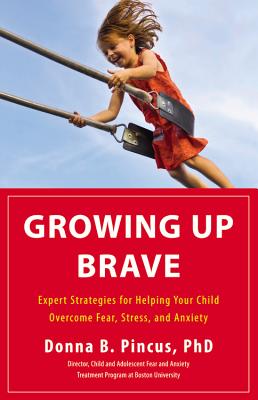 Growing Up Brave
Expert Strategies for Helping Your Child Overcome Fear, Stress, and Anxiety
Little Brown and Company, Hardcover, 9780316125604, 274pp.
Publication Date: August 28, 2012
* Individual store prices may vary.
Buy Now
or
Shop Local
Enter your zip code below to purchase from an indie close to you.
Description
When our children are born, we do everything we can to make sure they have love, food, clothing, and shelter. But despite all this, one in five children today suffers from a diagnosed anxiety disorder, and countless others suffer from anxiety that interferes with critical social, academic, and physical development. Dr. Donna Pincus, nationally recognized childhood anxiety expert, is here to help. In Growing Up Brave, Dr. Pincus helps parents identify and understand anxiety in their children, outlines effective and convenient parenting techniques for reducing anxiety, and shows parents how to promote bravery for long-term confidence. From trouble sleeping and separation anxiety to social anxiety or panic attacks, Growing Up Brave provides an essential toolkit for instilling happiness and confidence for childhood and beyond.
Praise For Growing Up Brave…
"A step-by-step guide to help their children deal with the ever encroaching stress and fears that our disconnected world is creating. Dr. Pincus empowers parents to use simple, scientifically established techniques to guide the development of competent and confident children. Growing Up Brave should be on every parent's bookshelf, especially parents whose children show signs of oversensitivity to everyday life, anxiety, and fearfulness."
-John J. Ratey, MD, author of Spark

"Pediatricians and parents are concerned about the increasing use of anti-anxiety prescription drugs for children. Growing Up Brave gives children stress-busting skills so they will need less pills. I highly recommend it!"
-William Sears, MD, coauthor of The Successful Child

"A wonderful book that should be helpful to any family today, especially those with fearful and anxious children (and parents). Dr. Pincus's most useful message is to teach parents to calm down, don't rush the child off to a psychiatrist for meds, don't jump to the conclusion that the child has an attentional or learning problem. Parents are usually the best resource when their child is under stress; Pincus teaches them, in very concrete and specific ways with many instantly recognizable examples, exactly how to provide what the child needs."
-Richard O'Connor, PhD, author of Undoing Depression