The Wreckage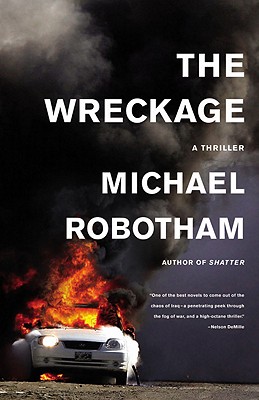 The Wreckage
Mulholland Books, Hardcover, 9780316126403, 439pp.
Publication Date: June 16, 2011
* Individual store prices may vary.
Buy at Local Store
Enter your zip code below to purchase from an indie close to you.
or
Buy Here
Description
An international thriller based on one of the bigest bank heists in history.

Billions of dollars are missing from Iraqi banks, and journalist Luca Terracini will risk everything to discover where it is. His Iraqi-American background has made it easier for him to infiltrate the darkest corners of the war, but death of his beloved Nicola in a suicide bombing has made him reckless. He has nothing left to lose.

In pursuit of the money, he meets UN representative Daniela Garner, who seems to know more about the heist than anyone else. She's a valuable asset in Baghdad where the possibility of an explosion lurks at every checkpoint. Luca's investigation proves volatile as well, and as he gets closer to the missing money, his actions begin to reverberate around the world.

In London, Richard North, a top-tier international banker and the one person who might be able to explain where the money has gone, vanishes. The manhunt for him will get Luca evicted from Iraq, separated from Daniela, and possibly end both his investigation and his life.

As usual, it's all about the money: who has it, who's lost it, and who's ultimately going to pay, as clandestine agents emerge from the shadows and powerful nations seek to control information and bury secrets, whatever the cost.
About the Author
Michael Robotham is one of the world's most acclaimed writers of thriller fiction. He began his career as an investigative journalist in Australia and Britain and later became a ghostwriter, collaborating on more than a dozen bestselling autobiographies for pop stars, actors, decorated soldiers, and politicians. His first psychological thriller, Suspect, sold more than a million copies around the world. Lost, his second novel, won the Ned Kelly Award for Australia's best crime novel in 2005--an award he won again in 2008 with Shatter. He has been short-listed twice for the CWA Steel Dagger.
Praise For The Wreckage…
"One of the best novels to come out of the chaos of Iraq; a penetrating peek through the fog of war, and a high-octane thriller."—Nelson Demille

"Fine and ambitious [with characters who are] wonderfully human--smart, determined, decent, and flawed. Thoroughly compelling."—Booklist (starred review)

"A high-voltage international thriller ... terrific suspense set against an exotic backdrop, The Wreckage is easily one of the summer's most unputdownable books."—BookPage

"I have seldom read a more chilling and suspenseful tale. Robotham makes you see the sand, smell the burning oil and feel the bullets flying past. Most thrillers are lucky to have one great character; Robotham has given us at least four. They sweat, bleed and cry with such raw emotion that you can barely catch your breath and the words on the page feel like a million needles beneath your clenched fingers. This is a writer who will give you a slice of the Middle East you will never see on CNN or Fox. Robotham is the real deal and we can only hope he will write faster."—David Baldacci

"[An] international crime thriller with short, punchy chapters that shift abruptly-suspensefully, even-from London to Baghdad to Washington and other locales, just like the movies....I read The Wreckage on vacation...a good call on my part; it's nothing if not a summer read...There are plenty of murders, chases, explosion and general mayhem."—The New York Times Book Review

"A fast-paced, gritty story that raises disturbing real-world questions ... will appeal to readers seeking summer fiction with depth."—Library Journal

"High-octane [and] complex ... Robotham, a former investigative journalist, weaves current events and white-knuckle suspense with a practiced hand."—Publishers Weekly

"An absolute stunner in every possible way."—The Review Broads


PRAISE FOR SHATTER:

"The most suspenseful book I read all year."
—Stephen King, Entertainment Weekly

"Pleasantly creepy....Plotted with precision and narrated with real intelligence."
—-- The New York Times Book Review

"Terrific...a classic 'wrong man' thriller that puts its hero in hot water, then raises the Fahrenheit to a fever pitch....Robotham not only builds the suspense masterfully but tops it off with a stunning twist."
—-- People

"A taut, swiftly paced thriller [of] speed and strength ... satisfying."—Kirkus

PRAISE FOR THE NIGHT FERRY:
"Vibrant and utterly contemporary.... An altogether superior thriller."
—Los Angeles Times