Queen of America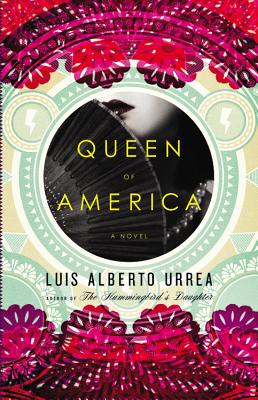 Queen of America
Little Brown and Company, Hardcover, 9780316154864, 496pp.
Publication Date: November 28, 2011
* Individual store prices may vary.
Buy at Local Store
Enter your zip code below to purchase from an indie close to you.
or
Not Currently Available for Direct Purchase
Description
After the bloody Tomochic rebellion, Teresita Urrea, beloved healer and "Saint of Cabora," flees with her father to Arizona. But their plans are derailed when she once again is claimed as the spiritual leader of the Mexican Revolution. Besieged by pilgrims and pursued by assassins, Teresita embarks on a journey through turn-of-the-century industrial America-New York, San Francisco, St. Louis. She meets immigrants and tycoons, European royalty and Cuban poets, all waking to the new American century. And as she decides what her own role in this modern future will be, she must ask herself: can a saint fall in love?

At turns heartbreaking, uplifting, and riotously funny, QUEEN OF AMERICA reconfirms Luis Alberto Urrea's status as a writer of the first rank.
About the Author
Luis Alberto Urrea is author of widely acclaimed novel The Hummingbird's Daughter and 2005 Pulitzer Prize finalist for nonfiction for The Devil's Highway. A member of the Latino Literature Hall of Fame, Luis was born in Tijuana, Mexico to a Mexican father and an American mother.
Praise For Queen of America…
Praise for QUEEN OF AMERICA:

"'Who is more of an outlaw than a saint?'" one of Luis Urrea's characters poses. The answer is this ferocious, ribald romance of the border. Jaunty, bawdy, gritty, sweet, Queen of America has a bottomless comic energy and a heart large enough to accept-even revel in-all of human folly."
-author of Emily Alone and Songs for the Missing

"A magnificent work of literary alchemy, so masterfully infused with myth and history, you will feel these characters in your heart, your gut. You will grieve for their immortal souls."
-author of Hotel on the Corner of Bitter and Sweet

"Enchanting...Fantastical...Urrea has stitched a seamless end to the saga."
-New York Times

"Lively and beautifully composed...Urrea's novelist descendant conducts the new book in as striking a manner, deploying the passion of a visionary, making music with his phrases, evoking a world in the ebullient manner of antique storytellers while employing effective modern narrative techniques. This sequel is a world in itself, with the spiritually gifted Teresita...The novelist's powers work their way in this entertaining and intelligent historical fiction, studded with delights, rich in image and metaphor, the voice strong and at the same time comforting as it creates a universe replete with a multiplicity of characters, complete in body and soul. And as in the best of fiction, though the novelist himself is not physically present, his voice speaks worlds."
-Chicago Tribune

"Urrea has given us that rare breed of literary sequel, a story that will satisfy fans of the original while standing solidly on its own...The Hummingbird's Daughter [is] the magical, engrossing and too-crazy-to-be-anything-but-completely-true story of his great-aunt...[and is] a tough act to follow...but Queen of America is filled with wondrous, wide-eyed descriptions of life in the United States in the beginning of the 20th century...At once magical and corporeal, grounding and transporting."
-San Francisco Chronicle

"Queen of America magically spins a vibrant, larger-than-life fiction based on the "Saint of Cabora."
-Vanity Fair

"Urrea delights in the texture of things. Turn-of-the-century America, particularly New York, comes alive at his fingertips: He sees both the silk and the mud... In imagining the story of his great-aunt Teresita, Urrea might have chosen to make her a hero; that would have been easier. What we get is more complicated, more modern... Hers is the story of what it means to have a gift, and how a talent can also be a burden."
-Los Angeles Times

"Colorful [and] exuberant."
-Wall Street Journal

"I am happy to report, a bit wet-eyed, that this new work holds its own, cleverly written so that a reader could take up the saga here...Urrea's touch with secondary characters is Dickensian; his long years of research into remote time and place inspires our surrender. Best of all, perhaps, is the sensual, musical prose set to English. Urrea dances along the fertile crescent between Spanish and English...Queen of America reads like a thrill, and in its conclusion feels like a blessing...The magic made here is all Luis Alberto Urrea's own
-Cleveland Plain Dealer

"Captivating...With deft humor and a poetic lyricism that seamlessly folds one scene into another, Urrea unfolds the story of his real-life great-aunt Teresita, a teenage saint who was known for healing miracles... Each scene in Queen of America unfurls gracefully like delicate wisps of smoke. Whether Teresita is being held captive in Northern California by a band of profiteering medical professionals, or being feted like a queen in New York's social circles, this epic novel paints a portrait of America-and its inhabitants-with grace and style. It will spark fire in readers' hearts."
-Bookpage

"A gritty, bold, and much-anticipated sequel to The Hummingbird's Daughter... Fiercely romantic and at times heart­breaking but also full of humor, Urrea's latest novel blends fairy tale, Western adventure, folk tale, and historical drama. Fans of Hummingbird and readers new to Urrea's work will surely enjoy this magnificent, epic novel."
-Library Journal