Both Flesh and Not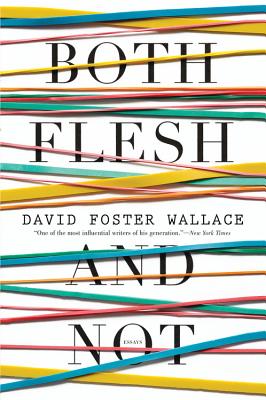 Both Flesh and Not
Little Brown and Company, Hardcover, 9780316182379, 328pp.
Publication Date: November 6, 2012
* Individual store prices may vary.
Buy at Local Store
Enter your zip code below to purchase from an indie close to you.
or
Not Currently Available for Direct Purchase
Description
Brilliant, dazzling, never-before-collected nonfiction writings by "one of America's most daring and talented writers." (Los Angeles Times Book Review).
"Both Flesh and Not" gathers fifteen of Wallace's seminal essays, all published in book form for the first time.
Never has Wallace's seemingly endless curiosity been more evident than in this compilation of work spanning nearly 20 years of writing. Here, Wallace turns his critical eye with equal enthusiasm toward Roger Federer and Jorge Luis Borges; "Terminator 2" and "The Best of the Prose Poem"; the nature of being a fiction writer and the quandary of defining the essay; the best underappreciated novels and the English language's most irksome misused words; and much more.
"Both Flesh and Not" restores Wallace's essays as originally written, and it includes a selection from his personal vocabulary list, an assembly of unusual words and definitions.
About the Author
David Foster Wallace (1962-2008) is the author of Infinite Jest, Girl with Curious Hair, Everything and More, The Broom of the System, and other fiction and nonfiction. Among his honors, he received a MacArthur Foundation Fellowship, a Lannan Literary Award, and a Whiting Writers' Award.
Praise For Both Flesh and Not…
"Scarily astute. . . . Published originally between 1988 and 2007, these essays demonstrate Wallace's interdisciplinary approach to both pop culture and abstruse academic discourse...For Wallace devotees, these essays are required reading."--Booklist

"A collection spanning 20 years of Wallace's nonfiction writing on subjects as wide-ranging as math, Borges, democracy, the U.S. Open, and the entire spectrum of human experience in between...Both Flesh and Not is excellent in its entirety and just as quietly, unflinchingly soul-stirring."--Maria Popova, Atlantic

"At their best these essays remind us of Wallace's arsenal of talents: his restless, heat-seeking reportorial eye; his ability to convey the physical or emotional truth of things with a couple of flicks of the wrist; his capacity to make leaps, from the mundane to the metaphysical, with breathtaking velocity and ardor."--Michiko Kakutani, New York Times

"David Foster Wallace left the essay form in a different state than it was in before he wrote. He wrote of Federer that he had 'exposed the limits, and possibilities, of' his sport. Wallace himself, with mystery and metaphysics galore, did no less for the essay."--Michael Robbins, Chicago Tribune Printers Row

"If you like essays, vocabulary lists (blepharitis! gastine!), footnotes (so many footnotes), and/or DFW, you need this."--Largehearted Boy

"One of the best writers of our time....If you've never read David Foster Wallace before, his masterful study of Roger Federer, included in this anthology, is an ideal place to start."--Steph Opitz, Marie Claire

"Like previous collections of David Foster Wallace's essays, Both Flesh and Not displays the late author's vast intellectual curiosity....showcase[s] Wallace's ever-evolving, intimate, and often humorous relationship with language."--The New Yorker Page-Turner

"David Foster Wallace's essays show a man struggling to figure out the complexities of discernment and judgment....It isn't merely wonderful writing. It is a model of adult citizenship....In Both Flesh and Not, he is at the top of his game."--David Masciotra, The Daily Beast

"The best passages are those that celebrate words and the author's relationship with them....It is a treasure trove for those who love the complexities of language."--Josh Davis, Time Out

"I doubt there's a single person reading this paper who needs me to explain why they should be excited about a new collection of previously uncollected David Foster Wallace essays. His nonfiction is born out of the sort of bitingly perceptive but deeply compassionate humanity our world needs more of, and we should savor every last bit of it he left us."--Rian Johnson, writer and director of "Brick" and "Looper"

"Every one of these pieces, even the tiniest introduction to a collection of prose poems, hums with Wallace's contrary energy....They show a mind at work, and it was one of the best this country has seen."-John Freeman, Boston Sunday Globe