The Land of Steady Habits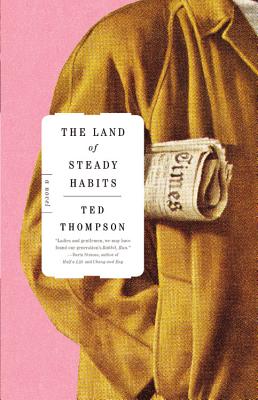 The Land of Steady Habits
Little Brown and Company, Hardcover, 9780316186568, 272pp.
Publication Date: March 25, 2014
* Individual store prices may vary.
Buy at Local Store
Enter your zip code below to purchase from an indie close to you.
or
Not Currently Available for Direct Purchase
Description
"This assured, compassionate first novel channels the suburban angsty of Updike and Cheever...with pitch-perfect prose and endearingly melancholy characters."--Booklist (Starred Review)
Anders Hill, entering his early sixties and seemingly ensconced in the "land of steady habits"--a nickname for the affluent, morally strict hamlets of Connecticut that dot his commuter rail line--abandons his career and family for a new condo and a new life. Stripped of the comforts of his previous identity, Anders turns up at a holiday party full of his ex-wife's friends and is suprised to find that the very world he rejected may be one he needs.
Thus Anders embarks on a clumsy, hilarious, and heartbreaking journey to reconcile his past with his present. Like the early work of John Updike, Ted Thompson's first novel finely observes a man in deep conflict with his community. With compassion for its characters and fresh insight into the American tradition of the "suburban narrative," THE LAND OF STEADY HABITS introduces an auspicious talent.
About the Author
Ted Thompson is a graduate of the Iowa Writers Workshop, where he was awarded a Truman Capote Fellowship. His work has appeared in "Tin House" and "Best New American Voices, "among other publications. He was born in Connecticut and lives in Brooklyn with his wife.
Praise For The Land of Steady Habits…
Selected as an Amazon Best Book of April 2014

"Filled with heartache and humor, this assured, compassionate first novel channels the suburban angst of Updike and Cheever, updating the narrative of midlife dissatisfaction with a scathing dissection of America's imploding economy...with pitch-perfect prose and endearingly melancholy characters, Thompson offers up a heartbreaking vision of an ailing family and country." --STARRED Booklist

"With impeccable prose, dry wit, and uncommon wisdom, Ted Thompson brings to life one family's painful disappointments and powerful resilience. The Land of Steady Habits combines Austen's shrewd mastery of domestic economics with Updike's compassion for the melancholy commuter to make something elegant, fresh, and brilliant."—Maggie Shipstead, author of Seating Arrangements

"In his beautiful and generously imagined debut, Ted Thompson will rightly draw comparisons to other chroniclers of suburban life -Updike, Cheever-but I think we need to dig deeper into the tradition-to John O'Hara-because The Land of Steady Habits is our Appointment in Samarra and Anders Hill is our Julian English. Whether it's a society built on coal or one collapsing under the weight of credit default swaps, both novels explore what ails America by looking into the wrecked hearts of those who seem to have everything and now must reckon the high cost of the good life. Over the course of a single holiday season, Thompson takes Anders on a tragicomic ride, through exile and redemption, until a new kind of hero emerges, human and fallible, a man who becomes more for having accepted less and finds greatness because he chooses decency. Fearless and tremendously moving , The Land of Steady Habits tells a story we need to hear and announces the arrival of a voice we should all welcome."—Charles D'Ambrosio, author of The Point and The Dead Fish Museum

"It would probably never occur to New England white people that they are an ethnicity, but this sharp and funny saga of a Connecticut family unraveling is a detailed natural history of upper crust suburbanites and how they live (and drink). The reader learns not to take good fortune and loved ones for granted--and also that a liquor store owner in Westport will never starve."—Sarah Vowell, author of Unfamiliar Fishes and Assassination Vacation

"Ted Thompson will be weighed against some famous Johns -- Updike and Cheever -- for the usual wrong reasons. (Suburbs, separation.) But the comparison is apt in all the ways that matter: because the prose is sumptuous, the characterizations economically brilliant, the themes still important and universal. Because this is a great book. And readers who sample its riches will be greedy to scoop up the entire treasure of it. And so, ladies and gentlemen, we may have found our generation's Rabbit, Run."—Darin Strauss, author of Half Life and More Than It Hurts You

"A book that is funny, shrewd, and heartbreaking by turns, The Land of Steady Habits concerns the lost-and-found souls of Connecticut and Manhattan, and at every point this novel offers both pleasure and insight into its cast of characters. You don't expect a first novel to be as inward and worldly as this one is, and at the same time to be so readable. Ted Thompson's dialogue is so good, so unerring, that he must have perfect pitch. A wonderful debut."—Charles Baxter, author of The Feast of Love

"Thompson's sharp-eyed debut is that kind of searing portrait of American wealth unraveling that is both dazzling and immeasurably sad." -Kirkus Reviews

"Ted Thompson's elegiac yet bighearted take on adult disillusionment earns its comparisons to suburbans bards such as Updike and Cheever."—The Wall Street Journal Magazine

"Ted Thompson's terrific debut novel, The Land of Steady Habits, feels like a natural extension of Yates' classic Revolutionary Road or Updike's Rabbit series. Call this elegant, witty and economical novel Rabbit, Meltdown. It's not a stretch to say that this is the first great novel about post-crash American disillusionment."—NY1's The Book Reader

"In this impressive debut, Thompson delivers a vivid portrait of life in America's suburban upper crust explored through a splintering family. Through sharply written prose and fiery dialogue, Thompson's characters come alive: a recently retired husband on the brink of self-destruction; a conflicted wife in the midst of an affair; a middle-aged son in an "extended state of adolescence"; and a pair of pretentious neighbors with a precocious, rebellious teen. Together their lives, as they unravel and collide, weave a story that is at once honest, raw, heartbreaking, and comical... The novel finds its real power in the authenticity of its characters, in Thompson's ability to craft raw humans beneath the social pageantry of their external lives, relatable in their irritations, ethical lapses, and small triumphs... Thompson displays a keen ability to capture human emotion and interior conflict, and it is this stunning realism that consistently captivates the reader."—Bustle

"masterful...The opening paragraph in a novel is like the first shot in a movie: a good one tells you everything. And Ted Thompson's stunning debut cranes right into the thick of it."—Town & Country