An Unexpected Guest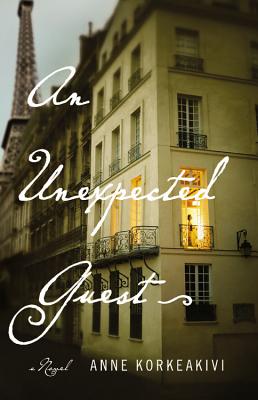 An Unexpected Guest
Little Brown and Company, Hardcover, 9780316196772, 277pp.
Publication Date: April 2012
* Individual store prices may vary.
Shop Local
Enter your zip code below to find indies closest to you.
Description
Clare Moorhouse, the American wife of a high-ranking diplomat in Paris, is arranging an official dinner crucial to her husband's career. As she shops for fresh stalks of asparagus and works out the menu and seating arrangements, her day is complicated by the unexpected arrival of her son and a random encounter with a Turkish man, whom she discovers is a suspected terrorist.

Like Virginia Woolf did in Mrs. Dalloway, Anne Korkeakivi brilliantly weaves the complexities of an age into an act as deceptively simple as hosting a dinner party.
Praise For An Unexpected Guest…
"Serious geopolitics mixes with parenthood and the finer points of entertaining.... Like her protagonist, Korkeakivi's writing is cool, calm and composed."
-Alison McCulloch, The New York Times

"Beautifully written....emotional and riveting....this book is a winner!"
-Pat Williams, The Courier (Houston)

"An Unexpected Guest is a quietly intelligent novel about a woman who, at long last, learns to be honest with herself."
-Yvonne Zipp, Christian Science Monitor

"Korkeakivi creates a Paris as crisp and unruffled as her heroine-and just as likely to surprise."
-Elizabeth Bard, author of Lunch in Paris: A Love Story with Recipes

"[In] this promising debut novel... Korkeakivi shares Woolf's flair for making everyday rituals (buying flowers, setting the table) seem profound."
-Melissa Maerz, Entertainment Weekly

"An Unexpected Guest is a lovingly detailed account of a day in the life of the wife of a British diplomat in Paris. But what a day! She deals with protocol, place settings and a temperamental cook and at the same time a troubled son, an Irish complication, and a suspected Turkish terrorist. Virginia Woolf meets Eric Ambler-and readers meet a charming heroine who rises to all occasions."
-John Casey, National Book Award-winning author of Spartina and Compass Rose

"A taut tender suspenseful novel, delicately told."
-Fernanda Eberstadt, author of Rat and The Furies

"[A] captivating first novel about appearances concealing truth."
-Julie Trevelyan, Booklist

"Like Virginia Woolf did in Mrs. Dalloway, Korkeakivi brilliantly weaves the complexities of an age into an act as deceptively simple as hosting a dinner party."
-Audra Otto, Minneapolis Post

"This beautifully modulated first novel follows one day in the life of a British diplomat's American wife as she organizes a dinner party crucial to her husband's career.... With this seemingly slight day-in-the-life tale, Korkeakivi produces a knowing comedy of manners, a politically charged thriller and a genuinely moving study of the human heart."
-Kirkus Reviews Starred Review

"Anne Korkeakivi's writing has all the best qualities of an Ishiguro novel. Clare, a seemingly selfless diplomat's wife, the epitome of restraint and hermetic detachment, unravels before us into a woman of dangerous allegiances, passions, and moral dilemmas, in prose that is both beautiful and razor sharp. Paris is depicted with subtle complexity, a city that reposes as it threatens, full of scorn and grace. Korkeakivi's sense of detail is remarkable while grounded in authenticity. An Unexpected Guest is a feast of a novel."
-George Hagen, author of The Laments

"Deep private tension animates the perfect ambassador's wife as she manages one of the most important days of her husband's career, the complexities of her surprising past converging rapidly upon the present where an entire emotional life is balancing on a delicate, invisible wire. A beautifully written novel about living with our many selves."
-Nicola Keegan, author of Swimming

"In this first novel, Korkeakivi updates Virginia Woolf's Mrs. Dalloway with a new heroine.... The book is as wonderfully self-possessed as its leading lady, and winningly suspenseful as well."
-Whole Living Magazine

"An Unexpected Guest is a compelling debut novel that elegantly unfolds its narrative of a 24-hour period in the life of a diplomat's wife, one of the year's most complex and unforgettable literary characters."
-David Gutowski, Largehearted Boy

"Anne Korkeakivi writes wonderfully about embassy manners, food, and Paris, and she writes even better about the darker world that threatens to disrupt not just Clare's seating plan for dinner but her entire life. An Unexpected Guest, like its heroine, is a novel of great elegance, enormous surprises, and unexpected depths."
-Margot Livesey, author of The House on Fortune Street

"Anne Korkeakivi knows her expat life as well as the protocol of diplomacy-from the flowers and trees and markets of Paris to the meetings behind closed doors. Clare is an observant, intelligent woman whose elegant existence includes endless dinner arrangements, to-do lists, and the necessity of irreproachable behavior. Yet she has a secret that seems destined to burst and shatter her comfortable life and that of her family. An Unexpected Guest will draw you in and keep you breathlessly turning pages, even as you admire its intelligence and fine writing."
-Thomas E. Kennedy, author of In the Company of Angels and Falling Sideways

"A thriller-like tale of a British diplomat's wife in Paris intent on pulling off the perfect dinner party while plagued by memories of past indiscretion."
-Megan O'Grady, Vogue

"Cooly composed...."
-Ihsan Taylor, The New York Times Book Review