The Right Hand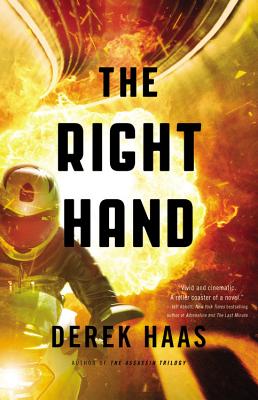 The Right Hand
Mulholland Books, Hardcover, 9780316198462, 260pp.
Publication Date: November 13, 2012
* Individual store prices may vary.
Buy at Local Store
Enter your zip code below to purchase from an indie close to you.
or
Not Currently Available for Direct Purchase
Description
Meet Austin Clay, the CIA's best-kept secret.

There has always been a need in the spy game for operations outside the realm of legality-covert missions so black no one in the American government, and almost no one in intelligence itself, is aware of their existence. The left hand can't know what the right hand is doing.

Austin Clay is that right hand, executing missions that would be disavowed by his own government were he ever to be compromised. His team consists of only his trusted handler and himself. His missions are among the most important and dangerous in U.S. history.

Clay is sent to track down a missing American operative, a man who was captured outside of Moscow, in the Russian countryside. Soon he discovers the missing officer is only the beginning of the mission, and finds himself protecting a desperate woman who believes a mole has penetrated the top levels of the U.S. government, throwing the international balance of power into jeopardy.

With blistering pace, international intrigue, and a high-stakes plot that spans continents, THE RIGHT HAND introduces a new hero, from the novelist whose work the New York Times Book Review has proclaimed "devastatingly cool."
About the Author
Derek Haas is the author of the novels The Silver Bear, Columbus, and Dark Men, which make up The Assassin Trilogy, as well as the stand-alone novel, The Right Hand. Derek co-created Chicago Fire and executive produces Chicago P.D. and Chicago Med for NBC. He also co-wrote the screenplays for 3:10 to Yuma, Wanted, and The Double. He lives in Los Angeles with his family.
Praise For The Right Hand…
"A one-session rocket of a thriller."
-Financial Times, Best Books of the Year

"Derek Haas is a vivid and cinematic writer and THE RIGHT HAND is a roller coaster of a novel."
-Jeff Abbott, author of The Last Minute and Adrenaline

"Screenwriter and novelist Derek Haas confidently strides into espionage with his adrenaline rush The Right Hand. A lean, no-nonsense plot....the vigorous pace never slows as Haas' sparse prose propels the plot that crisscrosses Europe. Haas introduces just enough spycraft to add intrigue, but never to overwhelm his story."
-Oline H. Cogdill, South Florida Sun Sentinel

"Cinematic...THE RIGHT HAND never lets up."
-Shawna Seed, Dallas Morning News

"Haas has crafted a lean and mean tale laced with wit, mordant insight and, at perfectly judged moments, flashes of sharp prose. He paces his tale with crack action scenes that, however well they read on the page, may soon have film directors calling "Action!" These high-octane scenes, however, never detract from Haas' canny plotting, which is capped by a final, unexpected twist and a poignant fade-out. It's not the game, but how well you play it, and Haas plays it very well indeed."
-Kirkus Reviews

"Fast-paced with lots of believable action."
-Deadly Pleasures

"Haas spins a riveting page-turner with just the kind of sharp dialogue one would expect from someone who writes for the movies. Readers will want to see more of Austin Clay."
-Booklist

"This hard-edged contemporary spy thriller from Haas covers a lot of ground with great narrative economy. Forceful, cinematic scenes show off the lean grace of Hass's prose. Cleverly placed plot twists and spycraft details help make this a standout. Readers will hope to see a lot more of Clay."
-Publishers Weekly (starred review)

"Derek Haas knows how to capture your attention with his first sentence and keep you in his thrall until his final words. THE RIGHT HAND is impossible to read in small bites. You devour it like a shark, hungry for more until you've swallowed every gob of flesh, every drop of blood. Haas doesn't know how to write a boring page; THE RIGHT HAND, like a triple shot of espresso, will keep you up all night, eyes darting back and forth, wondering how it's all going to end."
-David Benioff, New York Times bestselling author of City of Thieves and The 25th Hour

PRAISE FOR DEREK HAAS:

"A devastatingly cool series."
-New York Times Book Review, on THE ASSASSIN TRILOGY