Breed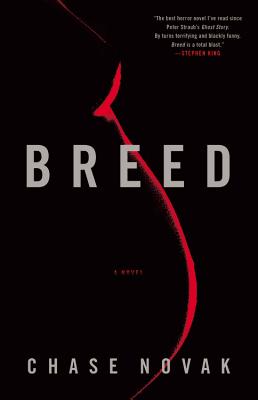 Breed
Mulholland Books, Hardcover, 9780316198561, 310pp.
Publication Date: September 4, 2012
* Individual store prices may vary.
Buy at Local Store
Enter your zip code below to purchase from an indie close to you.
or
Not Currently Available for Direct Purchase
Description
Critically celebrated novelist Scott Spencer delivers a Rosemary's Baby-like novel of gothic horror, set against the backdrop of modern-day Upper East Side Manhattan.
Alex and Leslie Twisden lead charmed lives-fabulous jobs, a luxurious town house on Manhattan's Upper East Side, a passionate marriage. What they don't have is a child, and as they try one infertility treatment after the next, yearning turns into obsession. As a last-ditch attempt to make their dream of parenthood come true, Alex and Leslie travel deep into Slovenia, where they submit to a painful and terrifying procedure that finally gives them what they so fervently desire . . . but with awful consequences.
Ten years later, cosseted and adored but living in a house of secrets, the twins Adam and Alice find themselves locked into their rooms every night, with sounds coming from their parents' bedroom getting progressively louder, more violent, and more disturbing.
Driven to a desperate search for answers, Adam and Alice set out on a quest to learn the true nature of the man and woman who raised them. Their discovery will upend everything they thought they knew about their parents and will reveal a threat so horrible that it must be escaped, at any cost.
About the Author
Ne en 1945 a Washington, Chase Novak est un ancien journaliste et a enseigne dans plusieurs universites des Etats-Unis. "Conception" est son premier livre et a ete un best-seller des sa sortie en Amerique.
Praise For Breed…
"Forget vampires, zombies and guys clad in hockey masks brandishing oversized machetes. Chase Novak unleashes truly scary literary horror villains in BREED: Mom and Dad. Novak...explores what happens when one's parents aren't quite the protectors they should be in this excellent horror novel. He probes emotionally deep and heartbreaking themes of family and friendship that seem fresh in a book that's a bit like a mad-scientist movie-or Frankenstein if the monster decided he needed some kiddos in his life.... The kids escape their domestic prison, which shifts gears in BREED from a psychological tale to a high-stakes adventure where your fingers can't flip the pages fast enough.... BREED doesn't need love triangles, twist endings or aspects of a gore fest to keep an audience enraptured. Instead, it's the simple conceit-how do you love parents who do more harm than good?-and a moving ending that make Novak's horror novel a thrill to read."
-Brian Truitt, USA Today

"Advanced reproductive technologies prove just a new form of mad science in this timely, engrossing medical thriller.... Novak writes with an energy that propels the reader through the novel's unlikely science and subplots. He also winks enough to suggest that this all could be a black comedy on modern parenting."
-Publishers Weekly

"Although the phrase 'I couldn't put it down' is used promiscuously in book blurbs (and reviews) it isn't often that I am so caught up in a novel that I have to finish it before thinking about doing anything else. Of course, the pacing and length of a book plays a big role in this phenomenon-once I raced through the first 100 pages of BREED in record time, finishing off another 210 pages was a realistic goal before turning in for the night.... The grabber...is in the set-ups that convince us we are in the 'real world' rather than some phony B-horror movie netherworld. We believe in the people we meet and the place where they live, so when ghastly things start happening, we have to know how the story will play out.... But the increasingly macabre and truly horrifying developments kept me in a vise-like grip.... BREED substitutes science for the religious mythology of Rosemary's Baby so it is, in some ways, more believable than the Ira Levin classic. Maybe too believable."
-Joe Meyers, Connecticut Post

"BREED is a daring, ultra-modern novel dealing with bleeding edge science and contemporary concerns. It's dark fiction, but not as we know it. An antidote to the anodyne paranormal romances, vampire horrors, and gory splatterfests littering the book charts, this is a truly original work. While transcending the modern, it also deals with universal themes populating literature since we first started telling stories around campfires. Ultimately, this is a novel about the dangers of science-bogus science in particular. It's a story of the Promethean folly of human beings. Written in urgent, vital prose that quickens the blood, it confronts. BREED is an intelligent, dark thriller dense with paranoia, yielding creative anxiety, a genetically modified rollercoaster."
-A.J. Kirby, New York Journal of Books

"...A delightfully nauseating read.... Chase Novak has hit upon the perfect blend of terrifying real-life topics.... [and] repurposed his literary flair for observation into grisly narrative schadenfreude.... There is a clever fable about class here, as the Twisdens' tumble down the evolutionary tree mirrors their fall down the economic ladder.... And it's the perfect dark fairy tale for these times, when more than a few readers might secretly find themselves wishing that the world's elites would be brought so low as to start pooping in their own posh living rooms."
-Annalee Newitz, NPR.org

"...A slice of shivering dread that won't allow you to look at in vitro fertilization, children running loose in Central Park or parents who find their children 'delicious' in the same way again."
-Ken Salikof, The New York Daily News

"Smart and brutal, this joins the ranks of such elegant domestic shockers as Lionel Shriver's We Need to Talk about Kevin, John Ajvide Lindqvist's Let Me In, and Justin Evans' A Good and Happy Child."
-Booklist

"...A foray into urbane horror, chicly ghoulish, with a malevolent emphasis on family values.... BREED exploits the contrast between civilized and feral behavior. The grand furnishings of the Twisden homestead wind up clawed, chewed and torn as Alex and Leslie's conditions worsen; the cellar goes all Silence of the Lambs. And in a really fine set piece Mr. Spencer stages a long chase through the Metropolitan Museum of Art, where the relics of primitive times and the veneer of privilege always coexist.... If Mr. Spencer's name were not openly attached to BREED, it would still read like the work of a serious writer with keen antennas for sensory detail.... Above and beyond its fatality count BREED has originality on its side; the ending is a true shocker. The book sets out to convey what it is like to be 'subject to the whip and rattle of unspeakable temptations.' And it does."
-Janet Maslin, The New York Times

"...Will remind horror connoisseurs of Rosemary's Baby, another Big Apple tale of parenthood gone horribly awry. What Spencer shares most with Ira Levin is a darkly droll sense of humor... [BREED] matches the earlier book's propulsive narrative and satirical edge."
-The San Francisco Chronicle

"...Like a literary, contemporary version of Rosemary's Baby-a well-to-do Manhattan couple has everything they could possibly want, only they desperately want children. After trying everything treatment they can, they resort to a highly unusual procedure that's successful in that they conceive twins. But there are also some seriously nasty side-effects that lead to a creepy, bloody, hairy thrill ride."
-Stephan Lee, Entertainment Weekly

"A cautionary tale about the perils of fertility treatments turns into a gore fest for the strong of stomach.... There may well be a massive popular readership for this gruesome tale..."
-Kirkus Reviews

"Disturbing and funny and very visual..."
-Robin Abrahams, Boston.com's "Miss Conduct Reads" blog

"The best horror novel I've read since Peter Straub's Ghost Story. By turns terrifying and blackly funny, BREED is a total blast."
-Stephen King

"An honest-to-goodness page-turner."
-Bookpage

"A page-turner, classic yet original, filled with detail both subtle and unforgettable, unnerving in its mad logic and genuinely frightening."
-Richard Price, author of Lush Life and Clockers

"The definition of a literary horror novel."
-Russ Marshalek, Flavorwire

"The most elegantly skin-crawling, gut-churning novel I've read in years."
-Warren Ellis, author of Crooked Little Vein and Transmetropolitan

"Diabolically entertaining.... Along with suspense and shocks, Novak delivers enough humor to make the mayhem palatable...with triumphant effect. The best American horror novel since Scott Smith's The Ruins, BREED is redolent of Roadl Dahl at his creepy best."
-Dennis Drabelle, The Washington Post

"There are passages during which BREED is really visceral."
-Sam Thielman, Newsday

"For all its Gothic horror pedigree, BREED is ultimately a smart commentary on modern parenting."
-David Abrams for Salon