How to Write Short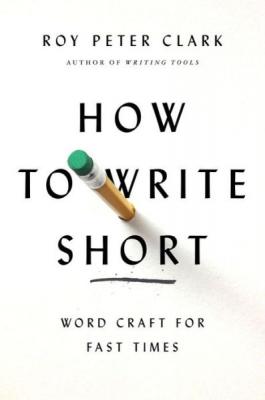 How to Write Short
Word Craft for Fast Times
Little Brown and Company, Hardcover, 9780316204354, 264pp.
Publication Date: August 27, 2013
* Individual store prices may vary.
Buy at Local Store
Enter your zip code below to purchase from an indie close to you.
or
Buy Here
Description
America's most influential writing teacher offers an engaging and practical guide to effective short-form writing.
In HOW TO WRITE SHORT, Roy Peter Clark turns his attention to the art of painting a thousand pictures with just a few words. Short forms of writing have always existed-from ship logs and telegrams to prayers and haikus. But in this ever-changing Internet age, short-form writing has become an essential skill. Clark covers how to write effective and powerful titles, headlines, essays, sales pitches, Tweets, letters, and even self-descriptions for online dating services. With examples from the long tradition of short-form writing in Western culture, HOW TO WRITE SHORT guides writers to crafting brilliant prose, even in 140 characters.

About the Author
Roy Peter Clark teaches writing to professional journalists, to teachers, and to students of all ages at the Poynter Institute for Media Studies in St. Petersburg, Florida. He has been an English Professor at Auburn University, a writing coach for the St. Petersburg Times, a reporter, feature writer, and critic. He has been involved since 1980 in Writers' Camp in Florida, a workshop for young writers and their teachers.
Praise For How to Write Short…
"Roy Peter Clark has compressed a lifetime of learning and love of language into How to Write Short. An engaging, entertaining, indispensable guide to the art and craft of concision."
--James Geary, author of The World in a Phrase: A Brief History of the Aphorism and I Is an Other: The Secret Life of Metaphor and How It Shapes the Way We See the World

"We're writing more than ever before, all of us, on screens big and small, and the pressure is on to make our characters count. In this book, Roy Peter Clark show us how, and more importantly, why it's worth the effort. How to Write Short is both a deeply practical guidebook and an annotated collection of concise gems from some of the world's greatest writers and journalists, not one of them longer than 300 words. Roy's message is clear: great writing is a matter of craft, not word count. How to Write Short will make you a better writer at any length."
--Robin Sloan, author of Mr. Penumbra's 24-Hour Bookstore



"How to Write Short both instructs and delights, in equal measure. On every page there is some useful advice and an amusing observation or illustration. Roy Peter Clark's many fans know that (extremely) diverse examples are one of his specialties, and this book doesn't disappoint. Open it up at random and you'll find quotes from Oscar Wilde, Steven Wright, Dorothy Parker, and Gypsy Rose Lee. And that's just one page! Read this book!"
--Ben Yagoda, author of When You Catch an Adjective, Kill It and How to Not Write Bad (forthcoming 2/2013)

"How to Write Short comes at the perfect time and enshrines Roy Peter Clark as America's best writing coach. Who else could masterfully tease the secrets of short, powerful writing from unexpected sources -- the Bible, Shakespeare, Tom Petty, and Abe Lincoln? This book should be on every serious writer's shelf." --Ben Montgomery, staff writer, Tampa Bay Times

"A fun, practical guide to writing little from a guy who's written a lot. Respected journalist and writing teacher Roy Peter Clark really knows his way around a sentence. Learn from him." --Christopher Johnson, author of Microstyle: The Art of Writing Little