The Maid's Version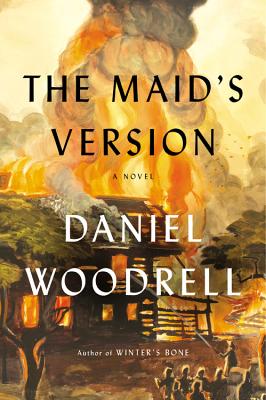 The Maid's Version
Little Brown and Company, Hardcover, 9780316205856, 176pp.
Publication Date: September 3, 2013
* Individual store prices may vary.
Buy at Local Store
Enter your zip code below to purchase from an indie close to you.
or
Not Currently Available for Direct Purchase
Description
The American master's first novel since Winter's Bone (2006) tells of a deadly dance hall fire and its impact over several generations.

Alma DeGeer Dunahew, the mother of three young boys, works as the maid for a prominent citizen and his family in West Table, Missouri. Her husband is mostly absent, and, in 1929, her scandalous, beloved younger sister is one of the 42 killed in an explosion at the local dance hall. Who is to blame? Mobsters from St. Louis? The embittered local gypsies? The preacher who railed against the loose morals of the waltzing couples? Or could it have been a colossal accident?

Alma thinks she knows the answer-and that its roots lie in a dangerous love affair. Her dogged pursuit of justice makes her an outcast and causes a long-standing rift with her own son. By telling her story to her grandson, she finally gains some solace-and peace for her sister. He is advised to "Tell it. Go on and tell it"-tell the story of his family's struggles, suspicions, secrets, and triumphs.
About the Author
Daniel Woodrell lives in the Missouri Ozarks near the Arkansas state line. His five most recent novels were selected as New York Times Notable Books of the Year, and "Tomato Red" won the PEN West Award for the Novel. Two novels have been adapted as major motion pictures: "Woe to Live On", filmed in 1999 by Ang Lee as "Ride with the Devil", starring Tobey Maguire and Skeet Ulrich, and "Winter s Bone", a 2010 film accepted to the US dramatic competition category at the Sundance Film Festival.
Praise For The Maid's Version…
"Daniel Woodrell is the American writer we increasingly look to for the latest urgent news on the American soul. The Maid's Version is a beautiful engine of a novel, whose cogs were not entirely made by human agency, one might hazard to say. As regards the level of reading pleasure, the highest. As regards the level of literary achievement, the highest."--Sebastian Barry

"The Maid's Version is stunning. Daniel Woodrell writes flowing, cataclysmic prose with the irresistible aura of fate about it."--Sam Shepard

"I'd gladly sign a petition to see Mr. Woodrell included on any roll call of America's finest living writers. He conveys a sense of the past with the stringent affection of Katherine Anne Porter; his turns at bedlam humor are worthy of Charles Portis; and his gorgeously tangled prose is all his own."--Sam Sacks, Wall Street Journal

"Woodrell is, like every truly great novelist, a mythmaker with both eyes on the absolute....The Maid's Version is one more resplendent trophy on the shelf of an American master."--William Giraldi, The Daily Beast

"Compact and soulful....The Maid's Version's worth is also in its luminous prose. Woodrell's sentences bristle with finely tuned language and almost biblical rhythms of his characters' speech....Further proof, as if we needed it, that Woodrell is a writer to cherish."--Adam Woog, Seattle Times

"The Maid's Version shows one of America's best writers at the top of his game."--Kevin Nguyen, Grantland

"For readers new to Daniel Woodrell's work, The Maid's Version is a perfect introduction and an invitation to read more. It's a short book...but there are lifetimes captured here....Throughout this remarkable book, Woodrell is an unsentimental narrator of an era that is rendered both kinder and infinitely less forgiving than our own."--Ellah Allfrey, NPR Books

"Woodrell's language echoes melodically with the vernacular of the Ozarks, traces of folk song, the cadences of the Bible. Sometimes he offers, seemingly with little effort, as if from a bottomless repository, pithy similes. This of Alma: "grief has chomped on her like wolves do a calf". At other times, sentences leisurely unspool: "The Missouri river floated sixty yards from the street, and there was a small crotchety tavern on the corner." [Woodrell] belongs within a great, predominantly male tradition of American writing that stretches back to Mark Twain and runs on through Willa Cather, William Faulkner, James Dickey, Larry McMurtry to Cormac McCarthy. From the vantage of their willed exile they have produced, down the generations, some of their country's finest fiction and poetry."—Peter Pierce, the Australian
Monday, Sep 9, 2013
Daniel Woodrell's new novel explores the lingering consequences of an explosion in an Ozarks dance hall that kills 42 people. It wasn't an accident, but the book isn't about a hunt for the murderer. Instead, reviewer Ellah Allfrey says, it's a remarkable study of a surviving sister's life and grief. More at NPR.org