Unbreakable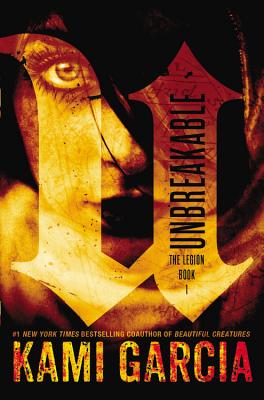 Unbreakable
Little, Brown Books for Young Readers, Hardcover, 9780316210171, 320pp.
Publication Date: October 1, 2013
* Individual store prices may vary.
Buy Now
or
Shop Local
Enter your zip code below to purchase from an indie close to you.
Description
"
"2013 BRAM STOKER AWARD NOMINEE FOR SUPERIOR ACHIEVEMENT IN A YOUNG ADULT NOVEL."
""I never believed in ghosts.""Until one tried to kill me.""
"When Kennedy Waters finds her mother dead, she doesn't realize that paranormal forces are responsible--not until mysterious identical twins Jared and Lukas Lockhart break into her room and destroy a deadly spirit sent to kill her.
Kennedy learns that her mother's death was no accident, and now she has to take her place in the Legion of the Black Dove--a secret society formed to protect the world from a vengeful demon. A society left in the hands of a misfit group of teens with unique skills: Jared, combat trained, with a temper to match; Lukas, rogue hacker and code breaker; Alara, whose attitude is as powerful as her voodoo protections; and Priest, an engineer capable of making a weapon out of a soda can.
As the teens use their individual talents to battle paranormal entities, they earn their rightful places in the Legion--except for Kennedy, who is left wondering if she is truly one of them.
Can she stay alive long enough to find out--without losing her heart in the process?
"Protect Yourself.""What you can't see CAN hurt you.""

About the Author
Kami Garcia is a #1 "New York Times" and Bram Stoker nominated author, and the coauthor of the Beautiful Creatures and Dangerous Creatures novels. Her solo series, the Legion, includes the instant" New York Times "bestseller"Unbreakable "and the sequel "Unmarked. "
Kami was a teacher for seventeen years and co-authored her first novel on a dare from seven of her students. If she isn t busy watching "Supernatural", Kami can teach you how to escape from a pair of handcuffs or bake a Coca-Cola cake. She has never raced a car, but there is still time. Kami lives in Maryland with her family and their dogs Spike and Oz. Visit Kami at kamigarcia.com.
Praise For Unbreakable…
"Tense and deliciously
twisty, Unbreakable is a breath-stealing midnight run through
some of the creepiest locales I've seen rendered in fiction. . . . It's about
forgiveness and redemption, love and loss, and it's anything but predictable. I
loved it."
-Ransom Riggs, #1 New York Times bestselling author of Miss Peregrine's Home for Peculiar Children

"Unbreakable is a fantastic adventure -- strong, engaging characters and a romance to die for. The twists will leave you breathless."
-Rachel Caine, New York Times bestselling author of the Morganville Vampires series

"Unbreakable is a fast-paced, relentless race through a world of demons and spirits, darkness and light -- and the finish line comes when you least expect it. I can't wait for the next book!"
-Ally Condie, #1 New York Times bestselling author of the Matched trilogy

"Paranormal action, secret societies, and romantic suspense! The Legion series is now definitely on my must-read list."
-Richelle Mead, #1 international bestselling author of Vampire Acadamy

"'Supernatural' meets 'Buffy the Vampire Slayer.' Kami Garcia is Joss Whedon's talent-sister! I didn't just read Unbreakable; I lived it. When it comes to supernatural suspense, Garcia is the Slayer."
-Nancy Holder, New York Times bestselling author of Buffy: the Making of a Slayer & the Wicked saga

"Unbreakable keeps you engaged and on edge. I found myself intrigued in Kennedy Waters' world and not wanting to put this book down. Looking forward to Book 2!"
-Jason Hawes, co-creator and star of "Ghost Hunters" and a New York Times bestselling author

"An eerily fun and emotionally accurate venture into the complex layers of paranormal encounters from both sides. Looking forward to Book 2!"
-Grant Wilson, co-creator of "Ghost Hunters" and a New York Times bestselling author

"Unbreakable is a haunting, chilling tale that reminded me of Stephen King and Dean Koontz. Creepy places, believable characters with some of the best teen dialogue I've seen, and plenty of suspense. I loved it."
-James Dashner, New York Times bestselling author of The Maze Runner Series