Cross My Heart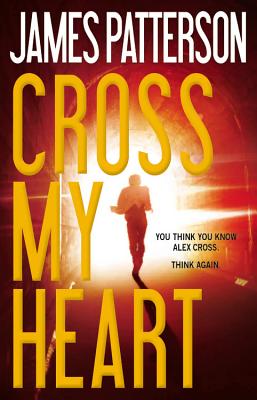 Cross My Heart
Little Brown and Company, Hardcover, 9780316210911, 419pp.
Publication Date: November 25, 2013
* Individual store prices may vary.
Buy Now
or
Shop Local
Enter your zip code below to purchase from an indie close to you.
Description
James Patterson raises the stakes to their highest level, ever-when Alex Cross becomes the obsession of a genius of menace set on proving that he is the greatest mind in the history of crime.

Detective Alex Cross is a family man at heart--nothing matters more to him than his children, his grandmother, and his wife Bree. His love of his family is his anchor, and gives him the strength to confront evil in his work. One man knows this deeply, and uses Alex's strength as a weapon against him in the most unsettling and unexpected novel of James Patterson's career.

When the ones Cross loves are in danger, he will do anything to protect them. If he does anything to protect them, they will die.

CROSS MY HEART is the most powerful Alex Cross novel ever, propelled by the ever-ingenious mind of James Patterson, the world's #1 bestselling writer.
About the Author
James Patterson is the CEO of J. Walter Thompson, an advertising agency in New York. He has written several successful fiction and nonfiction books, including The New York Times best seller The Day America Told the Truth.
Praise For Cross My Heart…
20 YEARS OF ALEX CROSS "Behind all the noise and the numbers, we shouldn't forget that no one gets this big without amazing natural storytelling talent--which is what James Patterson has, in spades. The Alex Cross series proves it."--Lee Child

"Twenty years ago, I wrote, 'Along Came a Spider is the best thriller I've come across in many a year. It deserves to be this season's #1 bestseller and should instantly make James Patterson a household name.' A household name, indeed. Congratulations to James Patterson on twenty years of Alex Cross and on Cross My Heart, which I am loving. You the man."--Nelson DeMille

"It's no mystery why James Patterson is the world's most popular thriller writer: his uncanny skill in creating living, breathing characters we truly feel for and seamless, lightning-fast plots. I do this for a living, and he still manages to keep me guessing from the first to last page. I've been a devoted Alex Cross fan for twenty years, when the first in the series appeared, and Cross My Heart proves that both author and his hero are at the top of their game. Simply put: Nobody does it better."--Jeffery Deaver

"Every once in a while a writer comes along and fundamentally changes the way people read. He or she is so bright, so innovative, so industrious that what they envision and create becomes the measure by which all others are judged. In 1993 one such writer--James Patterson--began to do just that. Now, 20 years later, with his mission still unfolding, James Patterson is the gold standard by which all others are judged. Bravo."--Steve Berry

"James Patterson is The Boss. End of."--Ian Rankin

"Alex Cross is one of the best-written heroes in American fiction, and each Cross novel further defines what it means to be a professional, a husband, a father, and above all, a man. Congratulations to James Patterson on twenty years of Alex Cross--both of you only get better and better."--Lisa Scottoline

"Twenty years after the first Alex Cross story, he has become one of the greatest fictional detectives of all time, a character for the ages. Cross My Heart has got to be the most terrifying and shocking Cross thriller to date, full of unexpected twists, savage turns, and electrifying suspense. This is the page-turner to end all page turners."--Douglas Preston & Lincoln Child