The Hydrogen Sonata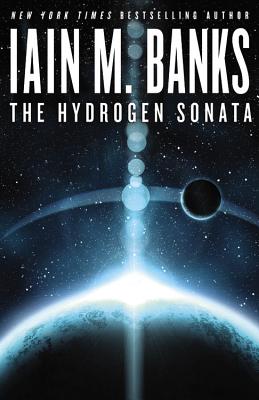 The Hydrogen Sonata
Orbit, Hardcover, 9780316212373, 517pp.
Publication Date: October 9, 2012
* Individual store prices may vary.
Buy at Local Store
Enter your zip code below to purchase from an indie close to you.
or
Buy Here
Description
The New York Times bestselling Culture novel...
The Scavenger species are circling. It is, truly, provably, the End Days for the Gzilt civilization.

An ancient people, organized on military principles and yet almost perversely peaceful, the Gzilt helped set up the Culture ten thousand years earlier and were very nearly one of its founding societies, deciding not to join only at the last moment. Now they've made the collective decision to follow the well-trodden path of millions of other civilizations; they are going to Sublime, elevating themselves to a new and almost infinitely more rich and complex existence.

Amid preparations though, the Regimental High Command is destroyed. Lieutenant Commander (reserve) Vyr Cossont appears to have been involved, and she is now wanted - dead, not alive. Aided only by an ancient, reconditioned android and a suspicious Culture avatar, Cossont must complete her last mission given to her by the High Command. She must find the oldest person in the Culture, a man over nine thousand years old, who might have some idea what really happened all that time ago.

It seems that the final days of the Gzilt civilization are likely to prove its most perilous.
About the Author
Originaire de Fife, en Ecosse, et reconnu comme l un des meilleurs ecrivains de sa generation, Iain Banks a publie une trentaine de romans best-sellers, dont le celebre "cycle de La Culture" et "Transition", publie chez Calmann-Levy en 2012. Repute pour ses ouvrages de science-fiction, il est l auteur d une dizaine de romans litteraires, tous salues par la critique. Il est decede en 2013.
Praise For The Hydrogen Sonata…
"This rich, sweeping panorama of heroism and folly celebrates the 25th anniversary of the Culture, Banks's far-future semi-utopian society.... The action tumbles along at a dizzying pace, bouncing among a fascinating array of characters and locales. It's easy to see why Banks's fertile, cheerfully nihilistic imagination and vivid prose have made the Culture space operas bestsellers and award favorites."—Publishers Weekly

"One of Banks' best Culture novels to date."—Booklist on The Hydrogen Sonata

"It's fantastically good fun that throws in some big ideas about life, the universe and everything, and like the unabashed leftie that he is, Banks manages to get in there a few sizable shots at unthinking, dogmatic religiosity for good measure."—SciFi Now

"Banks's charming prose and the scale of his imagination continue to delight Culture vultures."—SFX

"The Culture, the post-scarcity, hedonistic, Machiavellian, libertarian, arse-kicking science-fiction society created by the late Iain M. Banks...one of the most enduring and endearing visions of the future."—The Guardian

"Incomparable entertainment, with fascinating and highly original characters, challenging ideas and extrapolations, and dazzling action...sheer delight."—Kirkus Reviews