Broken Monsters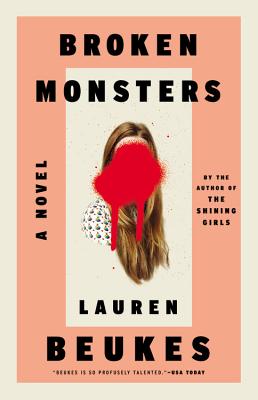 Broken Monsters
Mulholland Books, Hardcover, 9780316216821, 448pp.
Publication Date: September 16, 2014
* Individual store prices may vary.
Not Currently Available for Direct Purchase
or
Shop Local
Enter your zip code below to purchase from an indie close to you.
Description
"Scary as hell and hypnotic. I couldn't put it down...I'd grab it if I were you." --Stephen King
A criminal mastermind creates violent tableaus in abandoned Detroit warehouses in Lauren Beukes's new genre-bending novel of suspense.
Detective Gabriella Versado has seen a lot of bodies. But this one is unique even by Detroit's standards: half boy, half deer, somehow fused together. As stranger and more disturbing bodies are discovered, how can the city hold on to a reality that is already tearing at its seams?
If you're Detective Versado's geeky teenage daughter, Layla, you commence a dangerous flirtation with a potential predator online. If you're desperate freelance journalist Jonno, you do whatever it takes to get the exclusive on a horrific story. If you're Thomas Keen, known on the street as TK, you'll do what you can to keep your homeless family safe--and find the monster who is possessed by the dream of violently remaking the world.
If Lauren Beukes's internationally bestselling "The Shining Girls" was a time-jumping thrill ride through the past, her "Broken Monsters" is a genre-redefining thriller about broken cities, broken dreams, and broken people trying to put themselves back together again.
About the Author
Lauren Beukes is a writer, TV scriptwriter and recovering journalist (although she occasionally falls off the wagon). She has an MA in Creative Writing, but she got her real education in ten years of freelance journalism, learning really useful skills like how to pole-dance and make traditional sorghum beer. For the sake of a story, she s jumped out of planes and into shark-infested waters and got to hang out with teen vampires, township vigilantes, AIDS activists and homeless sex workers among other interesting folk. When she s not tutoring her baby daughter (aka the queen of eeeeeeevil) in practical ways to take over the world, she also writes books, short stories, magazine articles and TV scripts various.
Praise For Broken Monsters…
"Lauren Beukes has got an intriguing style of dealing with slightly surreal things in very real ways. I'm all over it."—Gillian Flynn, O: The Oprah Magazine

"Lauren Beukes is so profusely talented--capable of wit, darkness, and emotion on a single page--that a blockbuster seems inevitable."—Charles Finch, USA Today

PRAISE FOR THE SHINING GIRLS:
"Wildly inventive"—Entertainment Weekly

"Expertly chilling"—San Francisco Chronicle

"Astonishing"—Time

"A triumph"—Alan Cheuse, National Public Radio

"One of the scariest and best-written thrillers of the year"—Chicago Sun-Times