Cibola Burn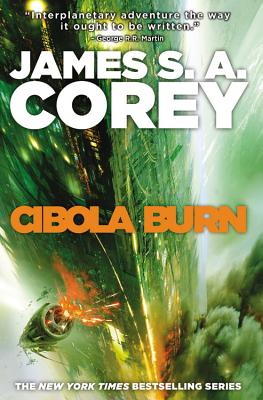 Cibola Burn
Orbit, Hardcover, 9780316217620, 592pp.
Publication Date: June 17, 2014
* Individual store prices may vary.
Buy at Local Store
Enter your zip code below to purchase from an indie close to you.
or
Buy Here
Description
The explosive fourth novel in James S.A. Corey's "New York Times "bestselling Expanse series. Now a major television series on Syfy
ENTER A NEW FRONTIER.
""An empty apartment, a missing family, that's creepy. But this is like finding a military base with no one on it. Fighters and tanks idling on the runway with no drivers. This is bad juju. Something wrong happened here. What you should do is tell everyone to leave."""
"The gates have opened the way to a thousand new worlds and the rush to colonize has begun. Settlers looking for a new life stream out from humanity's home planets. Ilus, the first human colony on this vast new frontier, is being born in blood and fire.
Independent settlers stand against the overwhelming power of a corporate colony ship with only their determination, courage, and the skills learned in the long wars of home. Innocent scientists are slaughtered as they try to survey a new and alien world. The struggle on Ilus threatens to spread all the way back to Earth.
James Holden and the crew of his one small ship are sent to make peace in the midst of war and sense in the midst of chaos. But the more he looks at it, the more Holden thinks the mission was meant to fail.
And the whispers of a dead man remind him that the great galactic civilization that once stood on this land is gone. And that "something" killed it.
The Expanse (soon to be a major Syfy Channel television series)"Leviathan Wakes""Caliban's War""Abaddon's Gate""Cibola Burn""Nemesis Games""
"The Expanse Short Fiction "The Butcher of Anderson Station""Gods of Risk""The Churn.
About the Author
James S. A. Corey is the pen name of fantasy authors Daniel Abraham and Ty Franck.
Praise For Cibola Burn…
"A politically complex and pulse-pounding page-turner.... Corey perfectly balances character development with action... series fans will find this installment the best yet."—Publishers Weekly on Abaddon's Gate

"It's been too long since we've had a really kickass space opera. LEVIATHAN WAKES is interplanetary adventure the way it ought to be written, the kind of SF that made me fall in love with the genre way back when, seasoned with a dollop of horror and a dash of noir. Jimmy Corey writes with the energy of a brash newcomer and the polish of a seasoned pro. So where's the second book?"—George R.R. Martin on Leviathan Wakes

"An excellent space operatic debut in the grand tradition of Peter F. Hamilton."—Charles Stross on Leviathan Wakes

"High adventure equaling the best space opera has to offer, cutting-edge technology, and a group of unforgettable characters bring the third installment of Corey's epic space drama (after Caliban's War and Leviathan Wakes) to an action-filled close while leaving room for more stories to unfold. Perhaps one of the best tales the genre has yet to produce, this superb collaboration between fantasy author Daniel Abraham and Ty Franck should reawaken an interest in old-fashioned storytelling and cinematic pacing. Highly recommended."—Library Journal on Abaddon's Gate

"Literary space opera at its absolute best."—io9.com on Abaddon's Gate

"[T]he authors are superb with the exciting bits: Shipboard coups and battles are a thrill to follow."—Washington Post on Abaddon's Gate

"Riveting interplanetary thriller."—Publishers Weekly on Leviathan Wakes