Parasite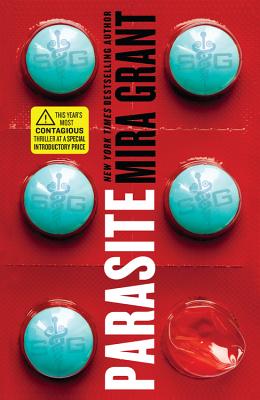 Parasite
Orbit, Hardcover, 9780316218955, 512pp.
Publication Date: October 29, 2013
* Individual store prices may vary.
Not Currently Available for Direct Purchase
or
Shop Local
Enter your zip code below to purchase from an indie close to you.
Description
A decade in the future, humanity thrives in the absence of sickness and disease.
We owe our good health to a humble parasite -- a genetically engineered tapeworm developed by the pioneering SymboGen Corporation. When implanted, the Intestinal Bodyguard worm protects us from illness, boosts our immune system -- even secretes designer drugs. It's been successful beyond the scientists' wildest dreams. Now, years on, almost every human being has a SymboGen tapeworm living within them.
But these parasites are getting restless. They want their own lives . . . and will do anything to get them.
Parasitology"Parasite""Symbiont ""Chimera"
For more from Mira Grant, check out:
Newsflesh "Feed""Deadline""Blackout"
Newsflesh Short Fiction (e-only novellas)"Apocalypse Scenario #683: The Box""Countdown""San Diego 2014: The Last Stand of the California Browncoats""How Green This Land, How Blue This Sea""The Day the Dead Came to Show and Tell""Please Do Not Taunt the Octopus
About the Author
Mira Grant is the pseudonym of Seanan McGuire, winner of a 2010 John W. Campbell Award for Best New Writer. She is the author of Deadline, Blackout, Feed, and Countdown, all part of the Newsflesh series. She lives in California.
Praise For Parasite…
"A riveting near-future medical thriller that reads like the genetically-engineered love child of Robin Cook and Michael Crichton."—John Joseph Adams

"Readers with strong stomachs will welcome this unusual take on the future."—Kirkus Reviews

"Fans of [the Newsflesh] series will definitely want to check this new book out. But fans of Michael Crichton-style technothrillers will be equally enthralled: as wild as Grant's premise is, the novel is firmly anchored in real-world science and technology."—Booklist

"Grant extends the zombie theme of her Newsflesh trilogy to incorporate thoughtful reflections on biomedical issues that are both ominously challenging and eerily plausible. Sally is a complex, compassionate character, well suited to this exploration of trust, uncertainty, and the price of progress."—Publishers Weekly

"It's a well-grounded medical wariness that gets at the heart of what the Parasitology series will be asking: What happens when the cure is worse than the disease?"—NPR Books

"Great premise, fun characters...! What's not to love?"—Sci Fi Now Magazine (UK)

"An exceptionally creepy medical-horror thriller that's the perfect spine-tingling read for Halloween... [a] roller coaster ride."—Fort Worth Star-Telegram

"It will definitely be worth readers' while to invest in this new series."—RT Book Reviews (4 1/2 stars)

"The zombie novel Robert A. Heinlein might have written."—Sci-Fi Magazine on Feed

"A masterpiece of suspense."—Publishers Weekly on Feed (Starred review)

"Deft cultural touches, intriguing science, and amped-up action will delight Grant's numerous fans."—Publishers Weekly on Deadline

"Unnervingly believable...disturbingly realistic...a suspense ridden read."—SciFi Now (UK)