Amity & Sorrow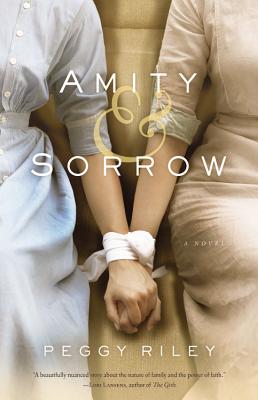 Amity & Sorrow
Little Brown and Company, Hardcover, 9780316220880, 308pp.
Publication Date: April 16, 2013
* Individual store prices may vary.
Buy at Local Store
Enter your zip code below to purchase from an indie close to you.
or
Not Currently Available for Direct Purchase
Description
A mother and her daughters drive for days without sleep until they crash their car in rural Oklahoma. The mother, Amaranth, is desperate to get away from someone she's convinced will follow them wherever they go--her husband. The girls, Amity and Sorrow, can't imagine what the world holds outside their father's polygamous compound. Rescue comes in the unlikely form of Bradley, a farmer grieving the loss of his wife. At first unwelcoming to these strange, prayerful women, Bradley's abiding tolerance gets the best of him, and they become a new kind of family. An unforgettable story of belief and redemption, AMITY & SORROW is about the influence of community and learning to stand on your own.
About the Author
Peggy Riley is a writer and playwright. She recently won a Highly Commended prize in the 2011 Bridport Prize. Her short fiction has been broadcast on BBC Radio and has been published in "New Short Stories 4," Mslexia Magazine, and as an app on Ether Books. Her plays have been commissioned and produced off-West End, regionally and on tour. She has been a festival producer, a bookseller, and writer-in-residence at a young offender's prison. Originally from Los Angeles, Peggy now lives on the North Kent coast in Britain. She is currently working on her second novel, which will be set in the women's internment camp on the Isle of Man during WWII.
Praise For Amity & Sorrow…
"AMITY & SORROW, grace and hope, honor and innocence, bliss and deliverance-all of this from one beautifully nuanced story about the nature of family and the power of faith. I savored every word."
-Lori Lansens, author of The Girls

"A beautiful and terrifying book. Peggy Riley tells a complex and enthralling tale of family love and religious belief with uncommon wisdom, grace, and skill."
-Sigrid Nunez, author of The Last of Her Kind

"Fierce and disturbing.... Riley's debut novel is a harsh but compassionate look at nature vs. nurture through the lens of a polygamous cult."
-Publishers Weekly (Starred Review)

"[An] accomplished, harrowing debut.... Riley's descriptive prose is rich in metaphor.... [and] the haunting literary drama simmers to a boil as it deftly navigates issues of family, faith, community, and redemption."
-Ann Kelley, Booklist (Starred Review)

"A literary page-turner.... Her writing is clear, crisp, chilling..."
-Reader's Digest

"Fierce and disturbing.... A harsh but compassionate look at nature vs. nurture."
-The Washington Examiner

"Gripping.... a must-read for book lovers."
-Ladies Home Journal

"A powerful book about hope and redemption, as well as the perils of unquestioned belief and obedience."
-SheKnows.com

"[A] shimmering first novel.... This delicately stitched, finely patterned and poetic novel suggests there is a tipping point at which human resilience disappears.... Riley has a gift for metaphor that gives this novel loft, and a rhythmic way of swinging from present to past."
-Dylan Landis, New York Times Book Review

"An accomplished debut novel.... The prose moves easily between past and future, between mother and daughter. Riley possesses a remarkable ability to prettily describe disturbing events; it's abrasive, yet compelling. She examines the complexities of families and the need to belong, how we lie best when we lie to ourselves (well said, Stephen King), and the ability to adapt."
-Rory O'Connor, Examiner.com

"Tense, compelling.... [and] tightly constructed.... Riley constantly surprises the reader with strangely apt metaphors.... The subject matter could easily lend itself to melodrama, but Riley doesn't fall into it. Even the most shocking and violent scenes don't exploit the suffering of the characters; they reveal the complicated reasons for their behavior. Riley strips her story to an almost mythic essence without losing track of the details that ground it in a specific time and place. A sense of imminent danger coexists with an awareness of the possibility of healing, and the tension between horror and hope makes the novel hard to put down."
-Margaret Quamme, Columbus Dispatch

"Riley writes with a quiet lyricism.... the relationships [Amaranth and Amity] build there are genuinely moving."
-John Williams, New York Times

"Hooks readers from its riveting opening.... What makes AMITY & SORROW so fascinating is Riley's compassionate portrayal of these women...each emotion is captured exquisitely. This novel is not sensationalist, but rather realistic and frightening as it captures the horrors of real-life cults."
-Megan Fishmann, Bookpage