The Shambling Guide to New York City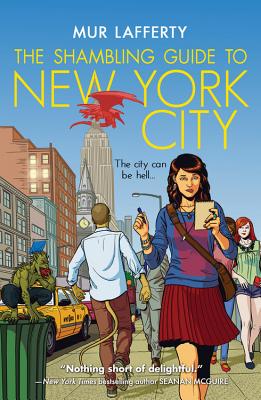 The Shambling Guide to New York City
Orbit, Paperback, 9780316221177, 370pp.
Publication Date: May 28, 2013
* Individual store prices may vary.
Buy Now
or
Shop Local
Enter your zip code below to purchase from an indie close to you.
Description
A travel writer takes a job with a shady publishing company in New York, only to find that she must write a guide to the city - for the undead!

Because of the disaster that was her last job, Zoe is searching for a fresh start as a travel book editor in the tourist-centric New York City. After stumbling across a seemingly perfect position though, Zoe is blocked at every turn because of the one thing she can't take off her resume --- human.

Not to be put off by anything -- especially not her blood drinking boss or death goddess coworker -- Zoe delves deep into the monster world. But her job turns deadly when the careful balance between human and monsters starts to crumble -- with Zoe right in the middle.
About the Author
Mur Lafferty currently produces several podcasts including Geek Fu Action Grip, and is on the planning committee for the upcoming PodcasterCon. She' s a member of the Sci-Fi Podcasting Network and presented at the Duke Podcasting Symposium.   Rob Walch is Host of podCast411, where he has interviewed more than 100 leading podcasters and media experts, and is a consultant to former Presidential candidate John Edwards. He' s on the planning committee for PodcasterCon, is a member of the Podcasting Specification Working Group, and has helped more than 100 people start their own podcasts.


Praise For The Shambling Guide to New York City…
"If Buffy grew up, got therapy and found a real job, it would look like this."—Scott Sigler

"Mur Lafferty's debut novel is a must-read book for those who like their urban fantasy fast, furious, and funny. Terrific stuff!"—Kat Richardson

"This is a great start to what promises to be one of the gems of the comic urban fantasy crown. The Shambling Guide sets the wonderful world of the supernatural--and the slightly more esoteric world of travel guide publishing--on its ear, and the result is nothing short of delightful."—New York Times bestselling author Seanan McGuire

"An engagingly funny, and fun, romp through NYC. You'll love Zoe... to bits."—New York Times bestselling Tobias S. Buckell

"Shows exactly why so many writers have been buzzing about Mur Lafferty for so many years: an unbeatable mixture of humor, heart, imagination, and characterization. I want to live in Mur's New York."—Cory Doctorow

"Without Mur Lafferty, the SF genre would be a much duller place. Mur is constantly inventive, always great fun and deserves every success."—Paul Cornell

"A wild ride through the secret side of New York City, Mur Lafferty's mighty debut is urban fantasy the way it should be: fast, funny, with bags of action and characters you'll love. A total delight from cover to cover."—Adam Christopher


"The Shambling Guide to New York City is a monstrously fun romp by one of our most engaging new authors."—Tim Pratt


"Zombies and vampires and golems, oh my! The Shambling Guide to New York City rounds up the biggest cast of the undead and never-quite-alive ever to appear in a single novel, along with a wisecracking heroine whose picture belongs over the dictionary entry for spunky. This is a comic tour-de-force by a writer who lives and breathes popular culture. Mur Lafferty is throwing a monster party and you're invited."
—James Patrick Kelly, Hugo and Nebula Award Winner



"Mur Lafferty is a bright, shining light in speculative fiction. She brings a warm, humourous and startling fresh voice to the genre in The Shambling Guide to New York City."
—Kaaron Warren



"Looking for a very different kind of travel guide? One that shows you the real Manhattan? The one the tourists haven't discovered yet, but the vampires and the watersprites have? Then The Shambling Guide to New York City is just what you need!

With really interesting restaurant recs and sightseeing suggestions, and unusual (to say the least) takes on the Statue of Liberty and Grant's Tomb, it's got everything you need to know for the trip of a lifetime--or longer! And with the smart and intrepid Zoe to show you around, how could you possibly get in trouble? I give it 5 Michelin stars and 8 Zombie Planet Thumbs Up (with real thumbs)!"
—Connie Willis

"What, you thought only humans wanted to travel? Monsters are tourists, too."—New York Times bestseller Scott Sigler

"The hip, knowing and sometimes hysterically funny narrative, interspersed with excerpts from the guide of the title, lurches along in splendid fashion. Combine wit, style and acute observation: the result is irresistible."—Kirkus Reviews (Starred Review)

"Charming debut... an enjoyable tour of the city's supernatural side."—Publishers Weekly

"The Shambling Guide to New York City shows that Mur Lafferty has something different to bring to the urban fantasy genre. She's created a character that can experience the human/non-human dynamic via researching a travel guide, which we'd never see through the usual detectives and ass-kicking central characters, and with snappy dialogue, a creative cast and can-do central characters, we have fun tagging along."—Gavin Pugh, tor.com

"In Lafferty's entirely believable world, New York City is secretly inhabited by vampires, zombies, fay folk, and assorted monsters. ... This is a funny, thoughtfully conceived, and thoroughly entertaining romp that will be a sure bet for urban-fantasy readers - and might even surprise people who don't think they'd enjoy a paranormal novel."
—Booklist (Starred Review)

"Well-written and immersive...a travel series you'll definitely want to stick with."—SFX

"An extremely exciting and incredibly amusing read."—SciFiNow.co.uk (5 stars)