The Time-Traveling Fashionista and Cleopatra, Queen of the Nile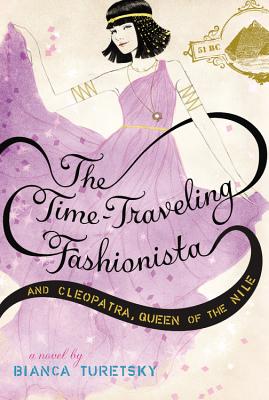 The Time-Traveling Fashionista and Cleopatra, Queen of the Nile
Poppy Books, Hardcover, 9780316224888, 242pp.
Publication Date: December 3, 2013
* Individual store prices may vary.
Buy Now
or
Shop Local
Enter your zip code below to purchase from an indie close to you.
Description
"Walk, talk, and dress like an Egyptian."
When Louise Lambert tries on a lavender Grecian gown during a visit to the mysterious Traveling Fashionista Vintage Sale, she feels a familiar tug and falls back in time, arriving at the dusty base of an enormous pyramid. She has landed in ancient Egypt...or has she?
It turns out that Louise is on the legendary Old Hollywood film set of "Cleopatra," but her time there is short-lived. Rummaging through the wardrobe tent, Louise gets her hands on a pearl necklace that dates back to 51 BC, and she suddenly finds herself whisked away once more, this time to the ancient city of Alexandria, Egypt. Gold and jewels shimmer in the Egyptian sunlight, but poisonous snakes and dangerous enemies also roam the palace halls. Louise quickly learns that life as a handmaiden to Queen Cleopatra is much more treacherous--and fashionable--than she ever could have imagined.
About the Author
Une nouvelle voix pleine de fraicheur qui seduira a coup sur les jeunes amatrices de mode et d'aventures feeriques !
Praise For The Time-Traveling Fashionista and Cleopatra, Queen of the Nile…
"Continuing her winning strategy of combining history with fashion, Turetsky this time takes her 12-year old heroine to Cleopatra's palace in ancient Egypt. The author delivers another suspenseful and exciting plot that serves as an immersive history lesson for her young audience."—Kirkus Reviews

"Turetsky delivers her enjoyable history lesson through the eyes of a girl who knows every major and minor fashion designer, a character sure to appeal to her target audience, as will the time-traveling theme. Appealing illustrations aid readers' imaginations... Good fun." —Kirkus Reviews on The Time-Traveling Fashionista at the Palace of Marie Antoinette

"Turetsky's debut breezily incorporates past and current pop culture references; with a spunky main character and breathless descriptions of glamorous clothing, it's entertaining wish fulfillment for those as fashion-focused as Louise."—PW on The Time-Traveling Fashionista On Board the Titanic

"The Time Traveling Fashionista had me under its spell from the first page."—Joanna Philbin, author of the Daughters series on The Time-Traveling Fashionista On Board the Titanic