A Thousand Hills to Heaven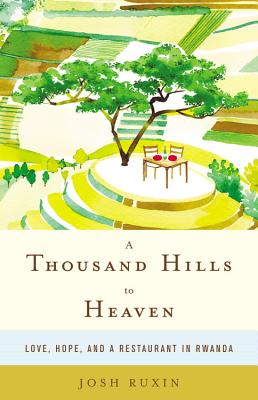 A Thousand Hills to Heaven
Love, Hope, and a Restaurant in Rwanda
Little Brown and Company, Hardcover, 9780316232913, 320pp.
Publication Date: November 5, 2013
* Individual store prices may vary.
Buy Now
or
Shop Local
Enter your zip code below to purchase from an indie close to you.
Description
One couple's inspiring memoir of healing a Rwandan village, raising a family near the old killing fields, and building a restaurant named Heaven.
Newlyweds Josh and Alissa were at a party and received a challenge that shook them to the core: do you think you can "really" make a difference? Especially in a place like Rwanda, where the scars of genocide linger and poverty is rampant?
While Josh worked hard bringing food and health care to the country's rural villages, Alissa was determined to put their foodie expertise to work. The couple opened Heaven, a gourmet restaurant overlooking Kigali, which became an instant success. Remarkably, they found that between helping youth marry their own local ingredients with gourmet recipes (and mix up "the best guacamole in Africa") and teaching them how to help themselves, they created much-needed jobs while showing that genocide's survivors really could work together.
While first a memoir of love, adventure, and family, A THOUSAND HILLS TO HEAVEN also provides a remarkable view of how, through health, jobs, and economic growth, our foreign aid programs can be quickly remodeled and work to end poverty worldwide.
About the Author
Josh Ruxin, Coordinator, Agnes Binagwaho, Coordinator, and Paul A. Wilson led the UN Millennium Project Task Force on HIV/AIDS, Malaria, TB and Access to Essential Medicines, Working Group on HIV/AIDS. The UN Millennium Project and its Task Forces comprise more than 250 scientists, development practitioners, parliamentarians, policy-makers, and representatives from civil society, UN agencies, the World Bank, the IMF, and the private sector.
Praise For A Thousand Hills to Heaven…
"An absorbing and affecting narrative." -- New York Times

"Part memoir, part history lesson, part discourse on how to make a public health project work using business standards, the story of Ruxin's life in Rwanda is riveting and inspirational.... From the depths of destruction to "Heaven," Ruxin chronicles the regeneration of this remarkable country, ultimately revealing the healing power of forgiveness and hope." -- Publishers Weekly

"The upbeat story of an American couple raising their three children in Rwanda and making a huge difference in the lives of thousands.... A personal adventure tale with a serious message for those concerned with eradicating poverty." -- Kirkus

"Even those disinterested in the wonk of development work will be enchanted by the characters in A THOUSAND HILLS TO HEAVEN." -- The Daily Beast

"Josh Ruxin is a dynamic and creative leader in the fight for Health for All in Africa and the world. His stories are like Josh himself: lively, interesting, and inspiring. Read this terrific book and you'll be filled with ideas of how you too can help to change the world." -- Jeffrey D. Sachs, director, The Earth Institute at Columbia University, author of To Move the World

"Heart-wrenching. Heart-warming. Poignant. Inspirational. Written with uncommon empathy and deftly turned phrases, full of entrepreneurial idealism tempered by hard-boiled common sense, and told with a modesty worthy of Mother Teresa and a page-turning suspense reminiscent of Stieg Larsson, A Thousand Hills to Heaven may well be the most meaningful book you read this year." -- Steven Raichlen, author of Planet Barbecue and host of Primal Grill on PBS

"Josh Ruxin is an entrepreneur for the 21st century who works at the intersection of health and business. His book beautifully captures his family's experiences and their ground-breaking - and often tasty - initiatives." -- Ambassador Mark R. Dybul, Executive Director of the Global Fund to Fight AIDS, Tuberculosis and Malaria

"This breezy memoir traces a wide-eyed do-gooder American duo from their naïve arrival to Rwanda, across years of work and lessons learned with the poor, concluding with a boutique bed-and-breakfast called Heaven. Wild ride." -- Laurie Garrett, Pulitzer Prize-winning writer and Senior Fellow at the Council on Foreign Relations

"Josh Ruxin limns the trajectory of his work, and his family's life, against the backdrop of a country's transformation. As all of us privileged to work in Rwanda know, there are remarkable opportunities-and stories-here, personal, professional, and universal. Some of these are recounted in A Thousand Hills to Heaven, Ruxin's account of the origins and growth of a project, a family, and a restaurant." -- Dr. Paul Farmer, Harvard Medical School, Brigham and Women's Hospital, Partners In Health

"Ruxin's work in Rwanda is an inspiration and in this book, he brings his insights and experience right to you. It's a moving, extraordinary journey that's worth sharing with your friends and your family." -- Larry King, host of Larry King Now

"Ruxin's story offers a window into the painful past and promising future of a nation ravaged by genocide and now bursting with potential. In a voice both compassionate and pragmatic, Ruxin offers a repudiation of conventional wisdom on international development work, making the case for a response that is at once creative and integrated, bold and humble. But the success of the book is that this lesson is delivered through an intensely personal narrative - tracking a decade in the life of a young couple through love and loss, certainty and doubt. This book is at times wrenching, at times hilarious and always honest. And perhaps its greatest feat is in calling the reader to account for our own choices - when have we failed to venture off the safe, well-trodden path? What would it take to choose an inspired life, driven daily by a higher purpose? How much are we willing to risk in the pursuit of a calling?" -- Rabbi Sharon Brous, IKAR

"A memoir of love, adventure, and family, A THOUSAND HILLS TO HEAVEN also provides a remarkable view of how, through health, jobs and economic growth, our foreign aid programs can be quickly remodeled and work to end poverty worldwide." -- Mother Nature Network

"A Thousand Hills to Heaven is a memoir of making the impossible possible. The Ruxins created a model for success, and helped bring health and happiness to a region that desperately needed it."—Kurt Michael Friese, Civil Eats